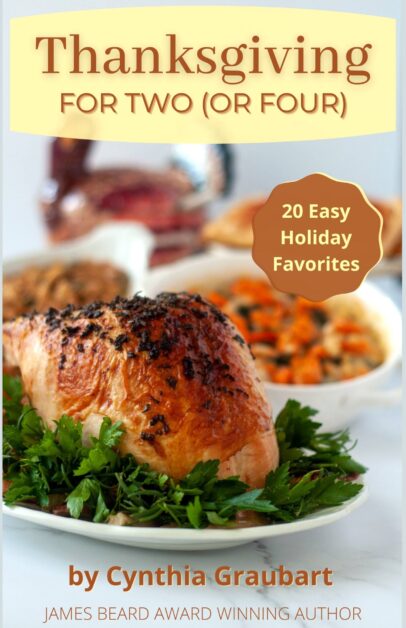 Editor's note: This excerpt and recipes were adapted from "Thanksgiving for Two (or Four): Downsized Recipes for Today's New Thanksgiving Dinner," a recently released cookbook by Cynthia Graubart, a James Beard Award winning cookbook author. The book captures the reality of Thanksgiving 2020 offering 20 comforting holiday favorites sized just right for gatherings of two to four people. The book is available at Amazon.com.
None of us could picture back in March of 2020 what Thanksgiving would look like. The COVID-19 global pandemic has influenced us in so many ways.
Holiday traditions are what bind us together as families, family-by-choice and close friends. When there's a break in tradition, it can be unsettling. Food traditions around holidays are particularly unyielding —we know everyone wants the sweet potatoes prepared by Aunt Kathy, so don't even think of changing that up!
But now we find ourselves in new territory. The casserole that serves 16 we always carry to Mom's house may be the only holiday dish we've ever had to worry about. Celebrating a holiday with just two or four people needs recipes sized just right.
These two recipes are one of 20 included in "Thanksgiving for Two (or Four)," to help you downsize your holiday. Even if you've never made Thanksgiving dinner before, I know you'll be successful with these easy recipes made with whole foods we love.
No matter how you choose to celebrate, I wish you a happy Thanksgiving.
A Few Tips
Turkey stock is the secret weapon. No time like the present to make a batch and package it for the freezer. It defrosts easily in the microwave or on the stove and you can use it in many recipes. Homemade stock adds a depth of flavor to recipes not easily achieved with canned stock. It's also handy for keeping leftovers from drying out.
An instant read thermometer is a cook's best friend. You'll never worry about whether or not the turkey is done if you are cooking it to temperature. Rest any cooked turkey a few minutes before carving.
The best way to avoid over cooking Thanksgiving dishes, in addition to cooking to temperature, is to cover things that are browning too quickly with foil. The foil will help preserve moisture and keep foods from burning.
You can use your countertop toaster oven. The temperatures are the same. Keep in mind a convection setting will cook food faster, but potentially dry out the surface of the food. Keep foil on hand to cover any fast-browning dishes.
Purchase the best ingredients your food budget allows. Use real butter and cream. Thanksgiving is no time to skimp on calories. To coat baking dishes, use oil or a spray if you prefer it instead of butter.
The three sisters of Thanksgiving herbs are rosemary, sage and thyme. Substitute the herb combinations freely. Sage is a quintessential Thanksgiving taste. Parsley is terribly underrated and if you are shy about herbs in your cooking, use parsley. It will brighten the flavor of any dish.
---
Sheet Pan Cornish Hen for Thanksgiving Dinner
Preparation time: 15 minutes; start to finish time: 1 hour, 15 minutes
Serves: 2 (or 4—see quantities for 4 in parenthesis)
For a simple, one-pan solution to Thanksgiving, a sheet pan dinner serves up the main dish Cornish hens, and sides of roast potatoes and green beans all in one. Cleaning up after a holiday meal has never been easier!
Cornish hens can feed two people, but know your diners as some will eat one whole hen. Splitting the hens is easier with a pair of poultry shears, or other heavy scissors. Two sheet pans will be needed if doubling the recipe.
Ingredients:
1/2 (1) pound small potatoes, halved or quartered
2 (4) medium onions, each cut into 6 wedges, divided
1 (2) lemon, thinly sliced
2 (4) tablespoons olive oil, divided
2 (4) Cornish hens
3 tablespoons butter, divided
4 (8) fresh rosemary sprigs
4 (8) fresh thyme sprigs
Salt
Freshly ground black pepper
1/2 pound fresh green beans, trimmed
1 (2) leek, trimmed, white part thinly sliced, rinsed well
2 sprigs parsley
2 tablespoons all-purpose flour
Instructions: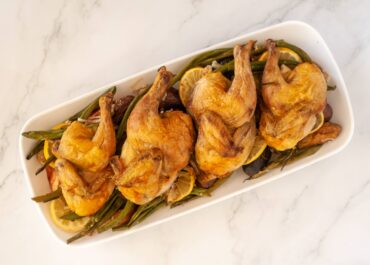 Heat oven to 425 degrees. Spray a rimmed baking sheet with cooking spray. If doubling the recipe, prepare two baking sheets.
Toss the potatoes and nine of the onion wedges with the oil in a medium bowl. Spread out on baking sheet. Top with lemon slices.
Pat hens dry and cut up either side of backbones to remove. Save for stock (see below, or freeze if using later), or discard.
Rub outside of hens with 1 tablespoon of the butter and place skin side up over potatoes and lemons. Slip a rosemary sprig under each hen.
Move baking sheet to hot oven and roast 30 minutes. Toss green beans and leeks in remaining tablespoon oil and scatter over potatoes around hens. Roast an additional 20 minutes, until the thickest part of the thigh on a hen reaches 170 degrees on an instant read thermometer.
While the hens are roasting, make a quick stock for gravy. Brown the backbones skin-side down in a saucepan over medium heat. When browned, add 3 cups water, remaining onion wedges and parsley sprigs. Increase the temperature to high and bring to a boil. Reduce heat to low and simmer until hens are cooked.
When hens have come to temperature, remove from oven and either serve from the sheet pan, or transfer hens to a serving platter and move vegetables to a serving dish.
Melt the remaining 2 tablespoons butter in a skillet over medium-high heat. Whisk in flour and keep whisking to fully incorporate and mixture has turned nearly dark brown. The color of this mixture, the roux, will help color the gravy.
Slowly stir in the stock, whisking vigorously until smooth and the gravy has thickened. Serve with hens and vegetables.
Variation: Substitute peeled and diced sweet potatoes for the small potatoes.
---
Apple Pastry Tarts
Preparation time: 10 minutes; start to finish time: 35 minutes
Serves: 6
Every cook needs a quick go-to dessert and these tarts are not only quick, they are beautiful, too. This recipe makes six tarts, more than is needed for a Thanksgiving dinner for two. But we must think of breakfast, too, mustn't we?
Ingredients:
1 sheet frozen puff pastry, thawed
6 medium apples
1/4 cup granulated sugar
2 tablespoon butter, cubed
Instructions:
Heat oven to 425 degrees. Line a rimmed baking sheet with parchment paper.
Lightly flour a surface and unfold pastry. Cut into 6 (4-inch) squares and move to prepared baking sheet. Prick surface of squares with a fork. Refrigerate while preparing the apples.
Core and slice apples thinly and toss with lemon juice in a large bowl. Whisk together the cinnamon and sugar in a small bowl. Sprinkle apples with sugar and toss to coat.
Decorate each square with apple slices, in a decorative pattern if desired. Melt butter and brush over tarts. Bake 20 – 25 minutes, until tarts are puffed, light brown, and apples are tender. Serve warm or room temperature.
Variation: To guild the lily, mix 3 ounces of room temperature cream cheese with 1 tablespoon granulated sugar and 1 tablespoon of water and spread on the pastry before adding the apple slices.