As the leaves start to fall, the days start to get gloomier and the landscape changes in color around us. This soft change of season is the perfect time of year to make your home cozier and more comfortable as we prepare to spend more time indoors this fall.
Darren Watts, Wren Kitchens showroom development and design director, shares his five personal favorite trends this season.
1. Marvelous marbles — faux yet luxe
We're loving the swirling unique aesthetic of faux gray veined marble splashbacks. Not only do they suit all types of kitchens from traditional to contemporary, but they offer a seamless smooth look.
This luxe look is very adaptable to all types of designs and it's much easier to clean compared to traditional tiles — just one clean swoop with soapy water, and you're done.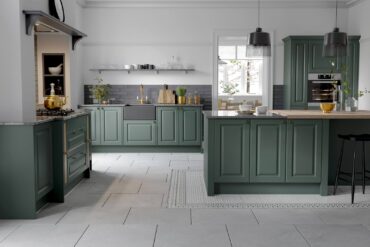 2. Forest greens — earthy and timeless
Nothing says fall more than earthy forest green cabinetry — marry it with golds or brass and a modern black Belfast — you just can't go wrong. This traditional yet modern design offers a super sophisticated timeless aesthetic.
Plus, this versatile color palette is a trend that's here to stay and you can play around with how you accessorize it depending on how you feel and what season it is. Think deep greys and blacks during the cooler spells and neutral creams and terracotta accents in the summer.
3. Layer upon layer — for that cozy feel
As the temperature drops, it's natural to add layers, but most forget to add textural design to their interiors, especially within the kitchen. This year's trend is to add several layers to create a luxurious cozy feel.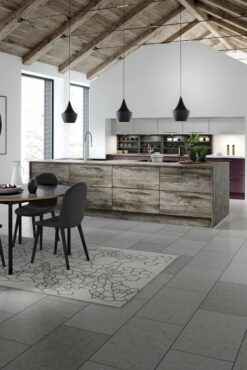 If you have wooden flooring, think about layering it up with a seagrass rug and a smaller thick pile rug on top. And for bench seating add throws and sheepskin rugs on them — so not only does it have a visual impact, but it's also cozy when guests dine. Also don't forget to add blinds and curtains on your bi-fold doors for that extra warmth and comfort.
4. Dark wooden tones — midcentury influence
Warmer and darker wood grains are back in surfaces such as rich walnut timber worktops and Italian grained cabinetry.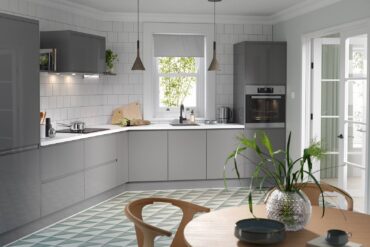 This look is influenced from the rise of old meets new and midcentury furniture. Tie it in with lashings of soft furnishings and marry it with muted or bold tones such as brick terracotta or even deep aubergine (eggplant).
5. Structured simplicity — create a calming space
To feel calm and collected this season, clean sweeping lines offer a minimalistic and practical space to live in. It's all about choosing high-quality materials and items that put strong lines and functionality at the forefront.
It's essential to have integrated appliances and hidden storage to ensure the smooth look isn't disrupted.