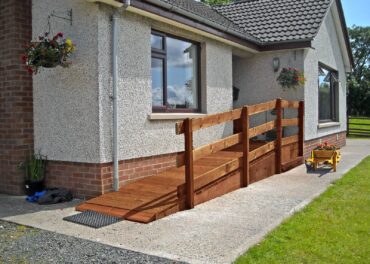 Many people think that aging means eventually having to leave your home. That is a reality for many, but it can be delayed significantly by making a few changes to your home in order to make it safer.
Certain areas of every home can pause problems and your top priority should be to reduce the chance of a trip, slip or fall. Older adults end up in the hospital the most because of falls.
Here are three of the first things you should do to make your home safer so you can age in place. All of these suggestions will likely require professional assistance. When it comes to your safety as you age, you shouldn't take any chances.
1. Make bathroom improvements before you need them.
Several important modifications to your bathroom can make your home much safer as you age. A simple way to start is to swap your sink faucet handles to levers. It's much easier to activate a lever than knobs to turn on some faucets.
You might already have a shower head that can detach from the wall, but if you don't, get one. It makes showering easier when you can't move as well.
And install grab bars so you can get in and out of the shower easily. The bathroom is the No. 1 place where you're likely to fall. Give yourself some extra support to make sure that doesn't happen.
If you can afford it, ditch the bathtub and get a walk-in shower. It will make it even less likely that you'll fall because you won't have to step over the edge of the tub.
2. Widen your doorways.
If you end up needing a walker or a wheelchair, wider doorways will make it much easier to get around the house. Getting this done in advance ensures you don't become trapped in a room because you don't fit through the door.
While you're at it, install some ramps wherever you have steps, especially outside the house. It won't matter how wide the door is if you can't get to it in the first place.
Then when you need to use a walker or wheelchair, you can tackle the less necessary modifications like making the kitchen wheelchair accessible. Those modifications are more about convenience than safety.
3. Install well-lit, smooth pathways around your house.
Speaking of outside, make sure you have plenty of lights installed for those times when you're out and about at night. If you can't see, you're more likely to trip and fall, regardless of your age.
And if your pathways are old and cracked, replace them with new ones that will stay as smooth as possible. Even a well-lit path can be a hazard if it's uneven.
There are plenty more steps you can take to make your home safer as you age. Comfort Keepers provides in-home care for seniors and can walk you through all the necessary steps so that you can age in place.