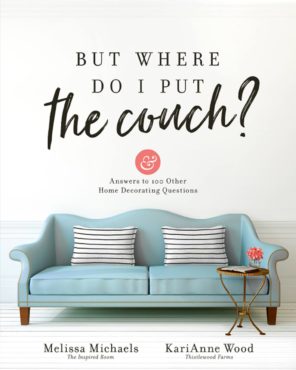 Editor's note: This excerpt is adapted from the book "But Where Do I Put the Couch? Answers to 100 Other Home Decorating Questions" by KariAnne Wood and Melissa Michaels, published by Harvest House Publishers. Reprinted with permission.
Question: I'm getting ready to move into a new home, and I'm trying to figure out which big piece — the paint color, the furniture, the floors, the cabinets, the curtains — I should start with. Inspiration is great for tying it all together, but I'm not sure how to begin when starting from scratch. — Samantha M.
A new home is a brand-new canvas for trying out anything you like — that paint color you've been dreaming of, the decorating style you've been trying to decide on, the flooring and the rugs you've always imagined. But before you shift your focus to just one thing, give yourself permission to make this home uniquely your own.
Inspiration is everywhere. You can find it in decorating magazines and blogs and Pinterest boards and home décor shops — but start slowly. You don't have to make it happen all at once. A home wasn't decorated in a day.
Start the process with something you're excited about.
Is there a certain color combination you've always wanted to try? A space — like a large entryway or a multipurpose room or a master bathroom — you've never had before? A room with a gorgeous view you just can't wait to style?
This gives you a great idea of where to start. Begin where you're inspired and allow that inspiration to carry you into the other rooms of the house.
How you decorate should be all about you.
If you want to turn a formal dining room into an art studio, go for it. If pink and orange are your thing, paint a room those colors. If you think a barn door makes the perfect coffee table, own it.
Your house needs to be a reflection of you and who you are. Decorate with your heart, and your home will follow.
If you like bright colors but the magazines all say that neutrals are in, please don't listen.
This new space is your clean slate for decorating and designing in a way that makes you smile. If you are all about vivid hues and everyone is telling you to decorate with neutrals, hang the brightest colors you can from every corner of your house.
Are you more of a minimalist?
Imagine an all-white room with a pink chair and a black table with a single lemon in the bowl as a centerpiece. If this image appeals to you, own it. Reduce clutter. Take the first step in creating a simple palette. Let that spill over into the rooms in your home, and then slowly add just a few statement pieces and pops of color as necessary.
Pace yourself.
Learn to wait. I get it. I understand. I'm always running the decorating race so fast, I get out of breath. Truth? If you haven't found just the right sofa or the perfect style of curtains, there's no hurry. Sitting on the floor never hurt anyone. Hanging up your curtains from your old home doesn't mean you have to display them forever. Great pieces will find you if you take your time.
It's tempting to take care of big things first.
Large projects, such as painting a room, installing flooring and hanging kitchen cabinets, make a mess and take time, so if you're absolutely sure what you want and it's in the budget, go ahead and begin. It's nice to get flooring and cabinet projects out of the way.
If you're certain of your paint palette, start by using paint to transform your walls. But if you're still figuring out your style, press pause. Take a moment to make sure it's the look you want.
Take it from my school of hard decorating knocks. I've painted a room five times to get the color right. I could have saved myself a few coats of paint if I had taken my time.