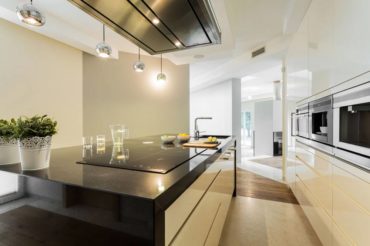 During the winter months, the best home improvement projects are those that involve indoor upgrades and focus on small details, which can make a big difference in how a room looks and feels. Winter is a particularly good time for kitchen, bathroom and laundry room remodeling because of the greater seasonal availability of both materials and contractors.
Here are three projects to consider.
Replace your kitchen countertops.
Replacing your countertops can make a big impact on your kitchen's appearance, and the job doesn't require a lot of trips back and forth outside, so it's an ideal cold-weather upgrade. One of the biggest kitchen design trends heading into 2020 is two-toned countertops — for example, you can install white marble countertops with charcoal cabinets. Or you can install gray cabinets with matte black countertops.
Choose any color combination that you like. And, no matter what color palette is selected, the contrast will create a visual impact that will fit with both modern and traditional kitchens.
If you hire a contractor to switch countertops instead of doing it yourself, you're likely to get a good deal because contractor rates tend to be lower during the slower winter season.
Upgrade your laundry room.
Many homeowners often overlook their laundry room when it comes to organization and style because it's not often seen by many and needs to provide function more than anything else. Make use of a winter weekend when you're stuck indoors to refresh and reorganize your laundry room.
Something as simple as a thorough cleaning and an infusion of accessories — like shelves and bins for baskets and detergent, or a countertop over the washer and dryer, where you'll create storage space and a place to fold clothes — can turn your laundry room into a spot where you'll enjoy spending time.
Also, consider adding lighting — overhead, recess style, undercabinet or for the washer/dryer work surface. Not only do you need to clearly see what you're doing while you're sorting through clothes and other household items, but also a room's lighting truly makes or breaks the way it comes across. The right lighting fixture can be the difference between a cold, fluorescent-lit extra space and a relaxing, organized room.
Update your bathroom faucets.
The disruption of a full bathroom renovation may be more than you want to deal with this winter. Instead, focus on making small updates that can make a big impact, such as replacing bathroom faucets. They might not seem like a big deal, but they're going to be used by your family — and guests — every single day. The wrong faucet can ruin the aesthetic of an entire room while the right faucet can enhance the room.
Swapping in a new faucet is a small project that can be completed in one afternoon, and it can refresh the look and feel of your bathroom.