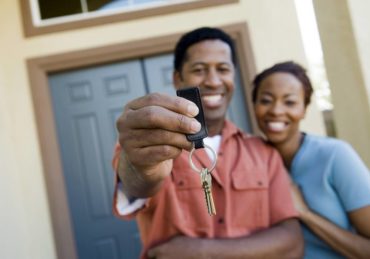 For many Americans, making the jump to buying that first house is a significant achievement that allows them to put their mark on their own space, while creating room for family and pets.
But how do you know you're ready?
Americans see home-ownership as an investment in their future, yet they are concerned about the steps they need to take to put themselves into a position to buy, according to the "How Americans View Home-ownership" survey conducted by The Harris Poll in April 2019 among 1,004 U.S. adults 21 and older on behalf of Wells Fargo. The study showed that 44 percent of non-homeowners identified saving for a down payment as a top barrier to buying, more so than any other obstacle.
"Home-ownership is very much a part of the American Dream, yet too many first-time buyers don't know where to start," says Liz Bryant, Wells Fargo Home Lending's national retail sales leader. "We find that a great way to get moving down the path to home-ownership is with a conversation. By reaching out to your mortgage lender, your banker or even a housing counselor, you can start putting together a plan that will help get you on your way."
Here are some steps to consider:
Research lenders and loan options.
Identify a lender who has a breadth of home loan options, including low down payment mortgages, and who is willing to provide you with personalized guidance. Then just start the conversation.
Know your goal.
Your mortgage consultant can help, and so can a financial health banker or a housing counselor. A discussion about spending, saving, debt and credit will help you make decisions about what you can afford, how much you need to save and whether you need to do work to improve your credit score.
Get your down payment ready.
If you don't already have one, create a budget for your monthly spending, so you can identify areas where you can save. Set aside unexpected windfalls, such as tax refunds, to grow savings.
Keep an eye on overall debt.
While there's room for student loans and credit card debt, a good rule of thumb is to keep your overall debt level — including your new mortgage — at or below 36 percent of gross monthly income.
Think beyond the down payment.
Consider setting aside 1-2 percent of the purchase price of your home each year for maintenance projects. If that seems like too much, start with less and work your way up.
"Too many first-time buyers get intimidated by the down payment or the work they might need to do around credit," Bryant says. "Many don't realize that there are lending options available for home-buyers with a range of credit scores, and programs that require buyers to put as little as 3 percent down. It's important to explore your options, take it step by step and work toward your home-ownership goals."
More readiness tips can be found at wellsfargo.com/financial-education/homeownership.