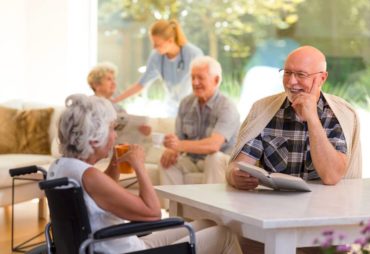 Over the last several years, the design of new skilled nursing, assisted living and memory-care facilities has made a dramatic shift away from the traditional medical model to one highly focused on providing a comfortable home environment.
The concept of the nursing home of yesteryear has revolutionized into beautifully designed, residential-style living based on resident-centered care with top quality health services.
Previous generations of seniors didn't have many options. Skilled nursing environments of today have evolved beyond physical care and addressing a specific need. It's about providing a community that focuses on well-rounded health in the physical and emotional space as well.
Today's health centers can be found in luxurious villages that also have fine dining, high-end amenities, social engagement as well as various levels of care. These dynamic centers offer a refreshing approach to long-term care and look and feel much more residential and hotel-like than a sterile medical institution.
Modern-day facilities are focused on lifestyle preferences and include all private suites with showers, flat screen TVs, internet access, selective menus to be enjoyed in a family-style dining atmosphere, areas for social connections and community activities, and overnight accommodations for families or guests.
Individuals who need this high level of health support now have the opportunity to receive that care in an environment that provides a positive, healthy and enriching experience. And, sweeping new federal regulation in nursing care facilities focused on quality of services, public reporting and transparency ensures that service standards and operations are being met — and excel in today's highly skilled care environments.