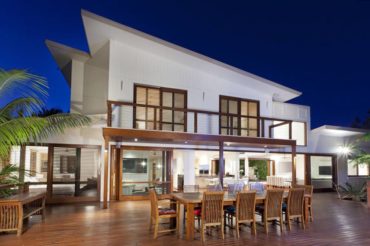 Entertaining friends for dinner, ballgames, game nights and more is such a popular and fun trend. So popular, that people often incorporate special spaces for their own entertaining needs into their building and remodeling plans in both minor and major ways.
There are easy ways to add convenience to you existing spaces — or you can add entire new spaces! One thing I hear often is that people need a family room/game room/dining room that holds 24 people because they host Thanksgiving/Superbowl/whatever.
Not one of those people has ever done it full-fledged, as it adds significantly to the budget to have that space you use only for entertaining a few times a year. However, if your budget allows for it, I say go for it and have fun.
Here are some of the more popular projects people ask for. I will try to give you full-scale versions and scaled back ones that can work for any budget.
Home Theaters
Home theaters are popular for family spaces, but also for viewing parties and football games. The gamut on a home theater can be significant to simple.
On the high end, you can have custom seating, projection system and screen, blackout shades, sound proofing, a "concession" or wet bar area and killer audio system.
But you can have as much fun is a simpler space. A room that allows for a large-screen TV or even a projector that can be shone on a smooth wall. Comfy couches, with or without platforms, make for great seating, and you can have a snack bar setup on a nearby table.
Outdoor Rooms
Outdoor living is very popular, and when our weather is beautiful, it's perfection to be out in it. Whether a patio or deck, large spaces that allow people to spread out are wonderful.
On the higher end of the budget, you could incorporate a covered area; kitchen space with countertops, sink, outdoor stainless-steel cabinets and a variety of cooking options including, but not limited to, a barbecue, smoker or pizza oven.
Outdoor lighting for nighttime entertaining is nice, and a firepit is almost considered a must-have. We see a lot more outdoor heaters, both freestanding and mounted overhead. That makes the deck or patio area much more user-friendly year-round.
You can still have a lot of the same features in a lower-cost range. Barbecues and smokers don't have to be built in, and many companies sell outdoor kitchen carts that are made of stainless steel and have a sink that connects to a garden hose, so you have running water. Firepits can be portable or built in.
Kitchens for Entertaining
We all know every good party takes place in the kitchen. But if you are cooking for guests, that can get a bit cumbersome.
Having a prep sink can alleviate traffic flow in the cooking area, as does having a beverage center on one end of the kitchen or island that stores chilled drinks. These are simple adds that anyone can incorporate.
If you have a little more room in your budget, consider a warming drawer or salamander. Or, if cooking is your passion, splurge on a Viking or DCS range that also has a built-in griddle.
My dream kitchen includes a full-sized refrigerator placed next to a full-sized freezer — lots of fridge space is needed in my house. You can also choose to splurge on cabinets or countertops (I love the Cambria quartz — so many options and it's durable and anti-microbial, and has no maintenance). But be careful, you can spend a lot of money on a dream kitchen very quickly.
Guest Suites
Guest suites or rooms are popular too, whether for a college-aged "kid" or visiting relatives or friends. Locating a guest suite away from the kitchen or other public spaces gives guest a nice quiet spot.
If they can have close access to a bath, that is great, but if you want to go a little over the top, why not do an en suite and include a private bath as part of their room? I suppose that depends on how long you want them to stay!
There are several other possibilities for spaces as unique as the people who want them. So before you build or remodel, think about your entertaining needs and how you can incorporate them into your plans.