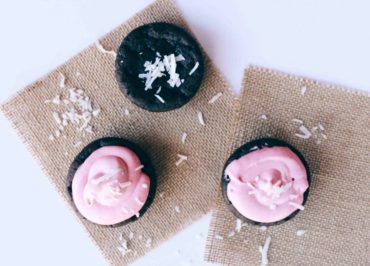 Valentine's Day is traditionally filled with sweets, chocolate and baked goods — but who said it can't be healthy, too? These red velvet beet cupcakes are baked with a secret nutritious ingredient: beets.
Surprisingly, the taste of beets does not overpower; in fact, it can't even be tasted in this recipe. These cupcakes, seasoned with cacao powder and vanilla extract and paired with a delicious pink, dairy-free cream-cheese icing (with natural coloring from beets too), are the perfect addition to your Valentine's Day baking.
So, grab your whisk and your oven mitts, get to baking and spread the Valentine's Day love, cupcake-style.
---
Valentine's Day Red Velvet Beet Cupcakes
Serves: 12 cupcakes (nutrient facts do not include icing)
Ingredients:
Cupcakes:
2-3 medium beets, roasted
1 cup unsweetened almond milk (or nut milk of choice)
3/4 cup raw sugar
1/4 cup melted coconut oil
1 cup gluten-free flour
1/2 cup cacao powder (or cocoa)
2 tsp pure vanilla extract
1 tsp baking soda
1 tsp baking powder
Pinch of sea salt
Icing:
1 cup vegan cream cheese
3-4 cups powdered sugar
1-2 tsp beet juice
Instructions:
Preheat oven to 375 degrees.
Cut off the stem and root from the beet. Wash and scrub them under warm water with vegetable wash. Dry beets and wrap in foil to roast for 60 minutes or until tender. Place a cookie sheet on the bottom rack to catch any liquid.
Once beets are roasted, unwrap the foil and place in a bowl in the refrigerator to cool. Do not drain any of the liquid, as this will be used in the icing.
Once beets are cooled, add beets only (set aside any collected beet juice) to high-speed blender and puree. Add water if needed to aid mixing. Once pureed, measure out 1/2 cup.
Add all wet ingredients (almond milk, melted coconut oil, 1/2 cup beets and vanilla extract) and whisk until thoroughly mixed.
In another bowl, mix gluten-free flour, cacao powder and baking powder and mix together. Sift the dry mix into the wet ingredients and add a pinch of salt. Use a hand mixer to blend ingredients until completely blended.
Pour batter into a 3-by-4 (12-muffin) pan and place in oven for 21-24 minutes or until completely cooked. Insert a toothpick or fork to the center of a muffin to ensure they are finished. While cupcakes are baking, prepare the icing as follows:
Place cream cheese in large mixing bowl and beat with a hand blender until whipped. Sift 1 cup of powdered sugar to cream cheese at a time and use the hand mixer to mix. Continue to desired sweetness. Add beet juice and mix. Leave in the refrigerator until ready to use.
Once removed from the oven, let cupcakes cool in the muffin tin until cool enough to remove — about 10 minutes. Transfer to cooling rack to finish cooling.
Once completely cooled, ice with cream cheese icing. If you do not have an icing bag, you can place icing in a plastic baggie and snip off a small part of one of the corners to use as a makeshift icing bag. Or simply ice with a butter knife.
Store cupcakes in the refrigerator for up to five days. Enjoy!