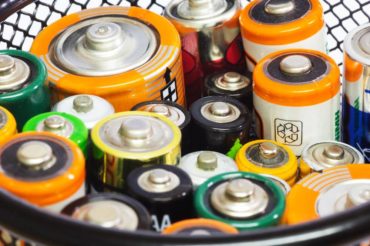 Is it time to finally declutter your junk drawers, closets, attic and basement? If these areas of your home contain used batteries, you're in good company. One in five consumers store some or all of their used batteries from the past year, according to a recent Nielsen study conducted on behalf of Call2Recycle.
Whether it's electronics packed away in the attic or boxed toys in the basement, old batteries are everywhere. As part of your decluttering efforts, experts say it's worthwhile to take the time to gather used batteries and properly recycle them.
"Responsible ownership of technology products extends to end-of-life management of the batteries that power those products," says Carl Smith, CEO and president of Call2Recycle, Inc. "By properly recycling those old batteries, consumers can help protect people and property."
From old power tools to cordless telephones, cameras, ereaders, tablets and cellphones, many people don't know what to do with the dead batteries inside their electronics. Indeed, more than half of individuals throwing away battery-operated electronic devices leave the battery attached.
To safely and easily recycle the batteries you find, Call2Recycle recommends the following steps:
Tape: Protect the ends/terminals with non-conductive electrical, duct or clear packing tape.
Bag: Store the taped batteries in a clear plastic bag that closes.
Drop: It's an easy task to complete while running everyday errands. Recycle your rechargeable batteries at a battery-recycling drop-off location. The Call2Recycle locations including retail partners The Home Depot, Lowe's and Staples. Eighty-six percent of the U.S. population lives within 10 miles of a Call2Recycle drop-off location.
More information about proper battery disposal can be found by visiting call2recycle.org.
To protect your family and home, take the step of recycling your used batteries. It's a simple way to make a positive impact on the environment and keep the people and property you love safe.