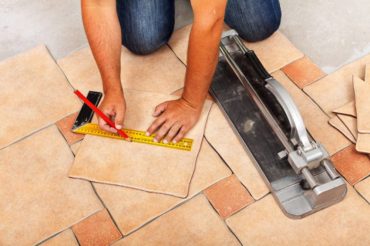 When installing tile, there's the eternal question: Should you go for porcelain or ceramic tile? The answer will ultimately depend on your budget and what your list of pros and cons looks like.
And let's not forget the important question of style — certain materials and designs look better than others, depending on your choices. There are a lot of variables to consider, so here are some tips.
Ceramic vs. Porcelain Tile — the Difference in Making
Both ceramics and porcelain are baked in a kiln, but since a higher temperature is used for porcelain, it gets much harder and denser. The high heat causes vitrification, rendering the material less porous than ceramic tiles.
These fundamental properties can help when you're deciding where you want to put tile and which type you should use. Tiles are rated by the PEI scale, which determines which type of tile is the softest and which is the hardest. PEI 1 generally isn't used for light-traffic flooring or wall tile, while PEI 5 can be used in heavily tracked areas that might experience abrasive agents like sand.
Pros and Cons of Ceramic Tile
Ceramic tiles often have a terracotta color before they are glazed. Glazing gives the tiles their design and color. Considering their PEI rating of 3 or less, there are certain places where you wouldn't want to place the ceramic tile, such as fast-food areas.
There are advantages to using ceramic tile:
You have brighter, bolder colors, designs and surface finishes.
It's not as expensive as porcelain tile.
It's easy to cut.
There are plenty of designs available.
It's relatively durable and easy to maintain.
On the other hand, there are downsides:
It is not frost-proof and is unsuitable for freezing conditions.
It is less durable.
Pros and Cons of Porcelain Tile
Porcelain tile is less porous and much denser than ceramic tile, which also makes it more durable. It can have a solid color look throughout, called color-body porcelain. This is why chips on porcelain tile are not easily noticed, unlike ceramic tiles.
Using porcelain tile has plenty of pros:
It's less likely to chip or break.
It's very easy to maintain with just water and mild detergent.
The material is extremely durable material and can last for decades when correctly installed.
However, porcelain tile also comes with some flaws:
It's quite heavy.
It costs more, particularly if you want an intricate design.
It's difficult to cut and install on your own.
Whichever option you to choose, make sure you're buying your tile from a reputable business. An excellent tile supplier will guide you through the process of picking out a design and type of flooring to fit your home in the best possible way. Some professional help can be what you need to finalize your dream design and pick out the tile that brings the style into it.