If you are looking to host an unforgettable holiday cocktail party, punch can make a memorable impression on your guests and bring your get-together to the next level.
Punch reached the height of its popularity during the Victorian Age. Originally made with alcohol, it ultimately became a nonalcoholic drink largely due to the preference of Queen Victoria. Over the following decades, it faded in popularity, briefly regaining favor in the 1920s when champagne punch was a hallmark of parties and celebrations.
Now, as new generations are reinvigorating old favorites and enjoying the art of mixology, punch is trending again.
Start by making punch a visual centerpiece at your holiday party. Consider a charming drink dispenser, an unusual punch bowl or an elegant glass pitcher. Let your personal and unique style shine through with your choice of glassware and table decorations and offer a variety of garnish selections for your guests to further personalize their glasses.
Typically, punches start with a blend of sweet and tangy, and you can get that "swangy" taste with an option like Tree Top's "100% Pure Pressed Sweet & Tart Apple Cider" as a base. For inspiration, take a mixologist's approach to creating a memorable punch. Lemon, cinnamon and cloves not only spice up the flavor but can also double as decorations. Try ginger beer for a nice fizzle, and for an adult-only punch, consider adding vodka or rum.
Your punch table can be a place to gather and reconnect with loved ones while enjoying a trending holiday beverage. Find more recipes perfect for entertaining at treetop.com.
---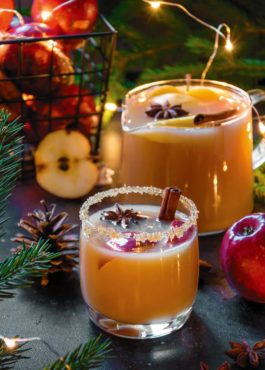 Swangy Cider Punch
Servings: 10 (8 ounces each)
Ingredients:
1 bottle (64 ounces) Tree Top 100% Pure Pressed Sweet & Tart Apple Cider
16 ounces ginger beer
2 oranges, juice only
1 lime, juice only
1 lemon, juice only
1 cup vodka or light rum (optional)
1 sliced Granny Smith apple
6 star anise pieces, plus additional for garnish (optional)
6 whole cloves
3 cinnamon sticks
Frozen cranberries, for garnish (optional)
Colored sugars or ginger crystals, for garnish (optional)
Instructions:
In punch container, combine apple cider, ginger beer, orange juice, lime juice, lemon juice and vodka or rum, if desired, for an alcoholic version.
Decorate container with apple slices, star anise pieces, cloves and cinnamon sticks.
Personalize each serving with additional star anise pieces, frozen cranberries and sugars or ginger crystals, as desired. Serve cold.