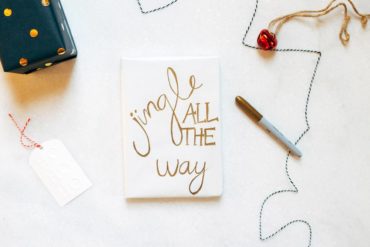 So, you've done the research and bought the perfect gift, but now you want to add that extra-special touch? I've got the answer: wrapping paper! Getting creative with your gift wrapping game is a fun way to take a thoughtful gift from "wow" to "wooooow!"
Here are a few ideas of how I like to do this.
1. Mix and Match Paper
Under our tree at home, I love to pick a few papers that go together but that aren't exactly the same. It's so fun to see pops of color, patterns and prints, along with bows and ribbons that coordinate.
Bonus points if your tree has a "theme" and your gift wrapping does, too. A theme doesn't have to be anything extravagant — even sticking to a general color palette will look thought through.
2. Use DIY Wrapping Paper
For special occasions, I like to create my own spin on wrapping paper by making it more personal. This can be done by making hand-stamped paper or writing lyrics to a friend's favorite Christmas carol on the paper.
This adds a special and personal touch to the gift you're giving, and your friends will love that you spend a little extra time thinking about them.
3. Stick to a Theme
I hinted at this above, but I love to give gifts that have a general theme to them. For this gift, the theme was neutrals, gold and — you guessed it — jingle bells.
I wrote "jingle all the way" in a gold marker to make my DIY wrapping paper, used paper with hints of black and gold for my "mix and match" and put a jingle bell on top!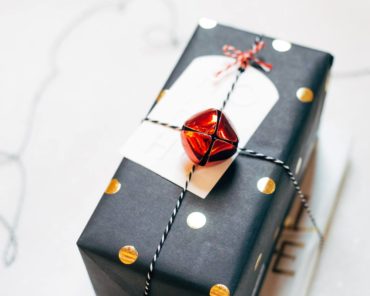 4. Tie it Together
Figuratively and literally! Attaching some string or a bow to a gift is often that final, special touch. If you're giving two or more gifts, it's fun to stack them and tie them together. I think this makes the gift look more fun to receive, and bonus: You'll be less likely to misplace a small gift if it's attached to a larger one.
You can tie the gifts together with an over-the-top bow or a neat knot, and think outside the box for things to add to the top — you could find some berries, holly or even mistletoe. (Wink, wink!)
5. Add Name Tag
Even if you take none of my advice, please put a name tag on the gift! There are so many options these days for cute tags to attach, or you can find a pack of stickered tags for as little as $1.
If you're doing a last-minute gift-wrapping job, you can cut out a piece of a coordinating paper and write your friend's name on that.