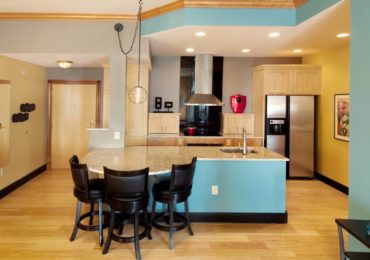 As more homeowners opt to remodel their current homes for accessibility and safety, those concerns are particularly important in kitchens and bathrooms. Baby boomers should especially take into account the accessibility of their homes and improvements that can be made.
Incorporate universal design strategies into your next remodeling project with this five-step guide from the experts at the National Association of the Remodeling Industry (NARI), which offers certification in universal design to provide contractors with the knowledge and training to ensure accessibility in kitchen and bathroom designs.
1. Understand your needs.
Before starting any remodeling project, take the time to define your needs. Ask simple questions such as:
How do you live in your current home?
What health issues — current and future — should be considered?
How can a remodel help make your space safer and easier to use?
2. Identify structural mobility changes.
Mobility addresses the ability to move freely in a space. While mobility issues can impact older adults, they are not limited to only the elderly. Even though you might not need mobility assistance today, take a walk through your home and identify structural items that should be addressed, such as:
Doorways
Widening doorways to 32-36 inches so walkers, wheelchairs or even large household items may easily move through
Removing thresholds that may create a tripping hazard
Hallways
Expanding hallway widths to 36-42 inches
Adequately lighting hallways for improved safety
Clear space
Incorporating clear space, especially in front of kitchen appliances
Creating a clear space of 30-by-48 inches to allow for easy access
3. Consider safety first.
Stairs pose a considerable hazard for those with decreased mobility. Ensure the first level of your home provides space for sleeping and eating and has at least one full bathroom. Other safety considerations include:
Incorporating nonslip flooring surfaces
Removing the need to go up or down stairs
Creating well-lit rooms
4. Make kitchen updates for ease of use.
Cabinets and counter heights, as well as the location of appliances, can improve the cooking experience. Other checklist items include:
Dishwashers in drawer units, eliminating the need to bend over when loading or unloading
Push button controls for dishwashers for easier use
Refrigerators with drawer unit options or side-by-side models
Ovens and microwaves placed in the wall at appropriate heights
5. Follow best practices for bathroom design.
Adjusting counter and toilet heights are two ways to make bathrooms more accessible. Wall-hung toilets should be approximately 2 inches higher. A first-floor or main-floor bathroom should incorporate:
Structural bracing around the tub, shower and toilet for grab bars
Walk-in tub or curbless stand-up shower with no threshold
Levered handles for faucets
Adjustable showerhead
For more information or ideas to incorporate universal design, visit NARI.org.