If your next big excursion is on hold until you can make arrangements for your four-legged friend, a solution may be closer than you think. Pet-friendly accommodations can be easier to find than ever, making it possible to simply take your pet along for the ride.
According to a survey by travel website Orbitz, almost one-third of pet parents say they skipped a trip to stay home with their pet. In fact, 40 percent of survey respondents said they would travel more often if they had convenient, affordable pet sitting or boarding.
If you can't find someone to watch over your furry friend, or you just don't want to, rely on these tips to travel with your pet in tow.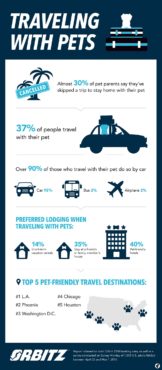 Opt for Travel by Car
Although several airlines now offer pet-friendly fares, traveling by car is often less expensive and allows you to keep your pet with you at all times. That puts you in control of necessities like food and restroom breaks and lets you create a comfy resting place for your pet to snooze while on the road.
Seek Pet-Friendly Destinations
According to the survey, Los Angeles, Phoenix, Washington, D.C., Chicago and Houston top the United States for locations with the most pet-friendly hotels.
Travel websites make it easy to find hotels that will happily accommodate your pet. For example, Orbitz allows users to book airfare, car rentals, tours and activities, as well as searching for pet-friendly hotels. As an added benefit, members of the rewards program can earn rewards instantly to book hotels for them and their furry friends.
Consider Nearby Attractions
Not only is a pet-friendly hotel a necessity, you'll also need to consider local attractions. A dog is likely to appreciate nearby parks and lakes for exercise and fresh air, but there may also be pet-friendly restaurants and venues in the city you choose to visit.
Pay Attention to Reviews
Fellow travelers have become one of the most valuable resources in contemporary travel. Their insight often helps set realistic expectations. Reading reviews and learning from others' experiences then adjusting your plans accordingly prior to your trip can help you plan a rewarding vacation for both you and your pet.
Take Time to Call Ahead
Even pet-friendly facilities have specific guidelines and expectations, so it's a good idea to call ahead to ensure everyone is on the same page. This also allows you to inquire about the availability of special amenities you may require, such as a litter box for a feline traveling companion.
Planning your trip? Find more pet-friendly travel resources at Orbitz.com.