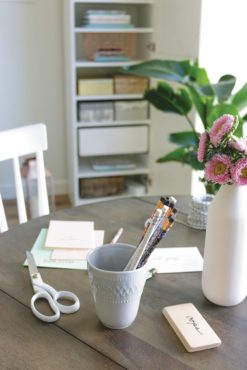 Editor's note: This is an excerpt from "Simple Organizing: 50 Ways To Clear the Clutter" published by Harvest House Publishers, Eugene, Oregon. Used by permission.
When you're organizing, here's a simple formula to follow: Less stuff equals more time. This is especially true in home offices and creative spaces, where papers, supplies and chaos tend to multiply. In a matter of months, we can accumulate so much stuff, we can't find what we want, let alone see what we already have.
When it comes to our home office and creative spaces, we can bring order to our pursuits — be they business or imagination oriented — when we simplify our organizing methods and pare things down to the essentials.
Eliminating excess paper and supplies, setting up systems that make sense and increasing room for learning and growth put us on the path to an orderly and organized life that is inspiring and satisfying.
Space to work. Space to dream. These are goals worth working toward.
Establish a Place for Everything
You might have an entire room devoted to crafting and hobbies, or you might have just a few shelves designated for your favorite pursuits. Some homes come equipped with a separate office or study, and in others, the dining room does double duty as a workspace. No matter your setup, you can organize your crafting and hobby supplies so they're easy to access and ready to go.
Spend as much time decluttering as you need to. If you have a lot of supplies and hobby clutter, pick just one hobby or craft category at a time to declutter and organize.
While you're working on this part, be honest about what crafts and projects you have done recently. If you probably won't use it, pass it on to someone who will.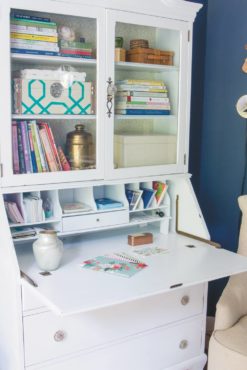 As you declutter, group items by category (for crafting supplies, you might have scrapbook paper, glue, glitter, gift wrap, ribbons, yarn, fabric, markers, tape, scissors, etc.). Assess what you have. You may have far more duplicate supplies on hand than you really need.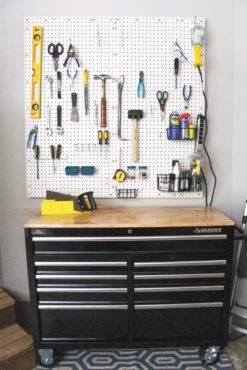 Test the supplies to make sure they all work (such as markers, glue and pens). Sharpen colored pencils. Throw out anything old, broken or ripped.
Organize office and craft supplies, art prints and other smaller items in a flat drawer system to keep from losing things in deep drawers.
Keep a basket of "to-read" materials. This might be magazine articles, newspapers or books — anything that will take more than two minutes of your time to read. Check the basket frequently, and pull out reading material when you have a few minutes to spare or when you're waiting for carpool pickup or during kids' activities.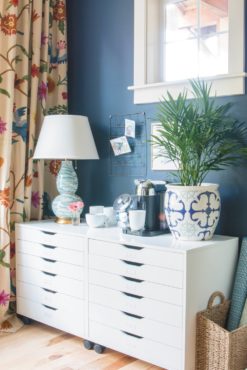 Don't forget the details. Lining drawers with pretty paper may sound like a silly luxury when we have too much clutter to even see the paper lining the drawer. But when we get rid of things we don't need and organize what we keep, we find we are effortlessly able to indulge in little details such as happy drawers.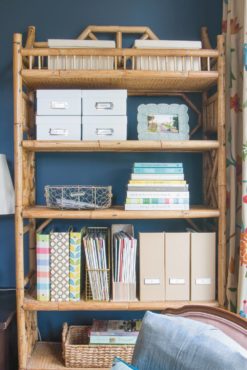 Remember the deep cleaning! Whether it's just a desk to dust or an entire craft room to clean, get a rag and polish up the shelves and surfaces. Clean the windows, wash the curtains, vacuum the furniture and rugs or sweep the floor.
Set Up Stations for Specific Tasks
Even in a designated home office or creative space, it makes a world of difference to divide the area into special zones for maximum organization and efficiency. (Plus it's fun to decorate these spaces to inspire and delight!)
Brainstorm what you need. You might need stations for paper and mail, technology, hobbies and crafting, scrapbooking or card-making, homework and reading, or business and office tasks.
Gather your supplies. For example, in the homework zone, you'll want a variety of items within reach, depending on the age of your student — books, pencils, pens, crayons, markers, calculator, bulletin board, stapler, three-hole punch, glue, tape, ruler, dictionary, paper and highlighters.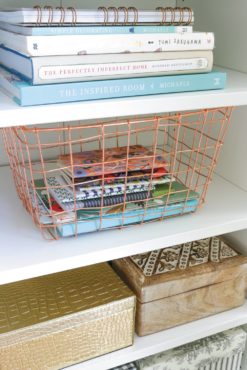 Even small areas count. You can set up an inspiring area in your home prepared with note cards, colored pens and stamps to send thank- you cards or notes of encouragement to friends. It doesn't take a lot of space and it brings great rewards. You can set up space in a cabinet you love, in a pretty box with a lid or even in a brass letter holder on your desk.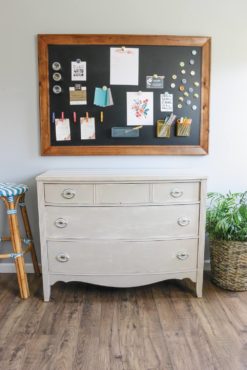 Make it fun. Arrange your area so you get maximum enjoyment while you do a dull task — such as paying the bills. In a corner of a room, I might pull up a comfortable chair to a table. I'll add some luxurious accessories, such as a soft and fluffy throw blanket to keep me warm on a chilly evening.
If I will be paying bills with my laptop, I'll get my headphones so I can listen to music to make the experience even more pleasant. I'll do whatever I can think of to help set the ambiance of that space so it's as comfortable as I can make it.
Include the little things. If you have space, set your favorite mug, tea bags and a teapot or coffeemaker on a shelf or side table for an inspiring beverage break while you work or create. This helps you focus and save time. Even a pitcher of lemon water works!
Find a Home for Creative Supplies
In basically all households, crafting, hobby, study and work stuff eventually ends up scattered throughout different rooms. You can invest a lot of energy in picking up, or you can make some allowances for this, fueled by a weekly quick cleanup session to return items to their original home.
If you don't have a designated room for crafts, a small basket, under-the-bed boxes or even a secretary desk can provide space for your favorite craft or hobby.
Shallow drawers for crafts make it easier to keep things organized, especially small items that can easily get lost.
Pegboards, wall shelves and hanging shoe organizers can maximize your vertical craft space.
Use labels wherever helpful to organize crafts. If you want to invest in a label maker, it might come in handy throughout your house.
Making more room for what we want to do in life — and freeing up time and space to actually accomplish things — always has a positive and inspiring outcome, even if the process of letting go can feel overwhelming or impossible. When we're trying to decide what to do with the stuff or space in front of us, it's easier to choose the path of less when we remember that less is really more.