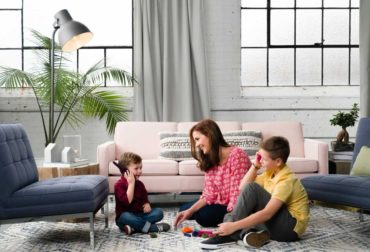 Are you trying to select products that are good for the planet and your family at the same time? While it may be easy to understand what organic food is, confusion still exists when it comes to home furnishings. Yet what you bring into your home directly impacts the health and welfare of your family in terms of exposure to chemicals, indoor air quality and comfort.
With the deluge of products claiming to be environmentally sustainable, it's important to know what to look for when furnishing your home. Here are some considerations to bear in mind.
Does it contain harmful chemicals?
While the EPA has phased out the use of some of the most potentially harmful chemicals, some chemical variations continue to be used in upholstery and fabrics. To get a sense of what's good and what may be bad, consult resources like the Living Future Institute's Red List.
Remember that while some degree of chemical treatment may be needed to make fabrics fire-retardant or stain-repellent, in many instances, green manufacturers employ minimal chemistry or have found natural solutions to achieve these results.
Am I considering all the options?
Fortunately, top fabric and furniture manufacturers have developed more sustainable alternatives. For example, Milliken & Company recently launched Breathe by Milliken, a collection of fluorine-free performance fabrics available in both natural and recycled polyester fibers.
Furniture retailers are offering sustainably sourced, locally made and organic furniture and fabric options, while big box retailers like Target have developed sustainability scoring requirements on products to help educate and empower consumers.
Where does it come from?
A sofa made from natural materials may not be a truly green choice. Consider the supply chain, too. Are natural raw materials sustainably grown and harvested? Are they made by companies with reputations for environmental stewardship according to green manufacturing principles?
What's it made of?
Select natural fibers or materials like cotton or wood whenever possible. However, if you prefer man-made fibers, ask about items made from recycled or postconsumer materials, which divert materials such as plastic from the landfill.
How long will it last?
Durability is sustainability. Whether wood, molded plastic or fabric, quality household items will remain in use, rather than in the landfill.
What happens when I'm done with it?
Opt for materials that consist of recycled or reused materials or those that biodegrade or can be easily recycled.
Have green claims been validated?
"Greenwashing," or making untrue or inaccurate sustainability claims, is a pervasive problem across a range of industries. Opt for brands with third-party certifications.
For example, products achieving GREENGUARD Gold certification have been screened to ensure they don't contain any of the more than 10,000 chemicals commonly known to pollute the air we breathe. Earning this certification means these fabrics meet the world's most rigorous chemical emission standards, improving indoor air quality and overall health. The Sustainable Furnishings Council is another excellent consumer resource.
Your home is your refuge. Knowing the facts about what you choose to put into it can allow you to feel better — literally and in terms of your environmental impact.