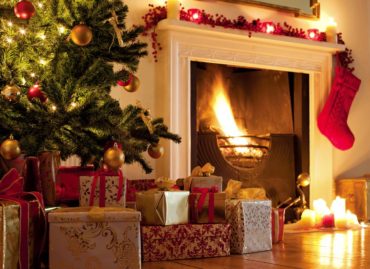 It may be the most wonderful time of year, but it can also be one of the most dangerous. Along with the cooking and decorations that make the season magical, the holidays present risks for home fires and burns.
An independent survey conducted by Shriners Hospitals for Children found that many Americans do not follow key fire and burn safety tips despite being aware of dangerous risks. For example, 25 percent of respondents reported leaving lit candles unattended, and 27 percent said they have left them in reach of children.
"Some of these findings seem alarming, but each year our burn hospitals see the unfortunate results — children who have been injured in cooking related accidents or in fires associated with holiday decorations or candles," said Kenneth Guidera, M.D., chief medical officer for Shriners Hospitals for Children. "These injuries can mean years of ongoing treatments and extensive rehabilitation for a child. That's why we encourage families to learn about fire safety and prevention before a tragedy occurs."
Fire and burn hazards are prevalent in many homes throughout the holidays, and Shriners Hospitals for Children offers these tips to remind families how to stay safe:
Never leave lit candles unattended. If you must use flame-burning candles, make sure to extinguish them when you leave the room.
When cooking, turn pot handles toward the back of the stove, out of the reach of children.
Never leave a hot stove or oven unattended.
While cooking, keep a lid or cookie sheet nearby to cover a pan if its contents catch fire.
If you decorate using a live, fresh-cut Christmas tree, water it daily.
Keep trees and other flammable decor at least 3 feet away from heaters and flames.
Discard decorative lights with bare wires, frays or kinks.
Make sure your home is equipped with working smoke alarms and fire extinguishers.
Have an escape plan in case of a fire and practice it with your family members so they know how to react if a fire does occur.
Know the burn care resources in your community.
Candle Safety for the Holidays
Candles are one of the most common sources of holiday fires. Never leave lit candles unattended and take these additional precautions to have a safe and fun holiday season:
When candles are lit, make sure they are in stable holders and placed where they cannot be easily knocked over.
Keep candles, matches and lighters out of reach of children.
Be conscious of nearby surroundings. Never place a candle near drapery, decorations or other flammable items that may easily catch fire. Also avoid drafty areas or fans, which can accelerate flames or accidentally blow a flammable item onto a candle.
Know that the safest way to extinguish a candle is with a snuffer.
Consider using wickless or flameless candles. There are numerous options that cast a warm glow so you can enjoy the ambiance of a candle without the risk.
Kids and Candles Don't Mix
Julianna and her mother, Tracy, know firsthand how dangerous the holiday season can be. While at a family Christmas party, Julianna, just 20 months old, snuck away from the activities and was in the bathroom playing in front of the mirror. A lit tea light candle on the corner of the sink ignited her clothes.
Tracy heard Julianna's screams from down the hall, ran to the bathroom and saw her daughter's dress on fire. She patted out the flames and family members called an ambulance.
Julianna spent three weeks at Shriners Hospitals for Children — Cincinnati to treat the third-degree burns that covered the left side of her body. Julianna, now 8-years-old, is doing well but faces ongoing treatment as she grows.
"We are very lucky," Tracy said. "Julianna will be fine thanks to the care she received. We all get busy during this time of year, but it is so important for parents to make sure they are following basic safety tips to keep their kids safe."
Visit beburnaware.org to learn key fire safety practices to help avoid injuries this holiday season. You can find activity books, tip cards and a five-minute online quiz to help identify and eliminate potential risks.