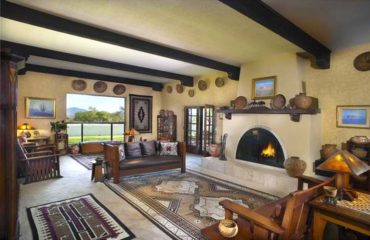 Top designers recognize the elegant beauty of Navajo weavings, which are a quick and easy way to bring a new look into your home that is warm, cozy and tranquil.
Authentic Navajo rugs and blankets are handmade with quality wool to last for decades, so it is important to find a reputable gallery or dealer. There are many styles of Navajo rugs that will work with any home-decorating style, such as Northwest Modern, California Casual Chic, Rustic, Craftsman and others.
Here are five ways to use them in your home to add bold geometric designs, a splash of color and a rich warmth to any room.
1. Hang on the Wall
One of the most popular ways to decorate a home with a Navajo rug is to use it as a wall hanging, especially if you have a home with large walls. Stunning designs and intricate patterns are beautiful works of art that will make a statement in any room while softening the mood and acoustics within your home.
2. Use as a Floor Rug
Navajo rugs are tightly woven and extremely durable for use on the floor. From family rooms to formal areas, these rugs pair beautifully with natural materials like wood and stone flooring. The colors patina over time, adding a rich and unique depth.
Some Navajo rugs are well over 100 years old and still grace the floors of many homes, and if cared for properly, they could last another 100 years.
3. Display on a Table
Add a pop of color to a room by displaying a Navajo rug on a tabletop, bench or even a pool table. Even small spaces can be transformed with a traditional Navajo weaving that creates a talking point for guests.
4. Hang over a Chair or Couch
Bring warmth to a room by adding a beautiful Navajo blanket displayed over the back of a chair or couch. The natural wool and stunning colors look amazing with luxurious leather couches! You can even layer them to add a coziness to any room that can double as a lap blanket.
5. Use as a Bed Spread
Bold, geometric designs can add masculinity to a bedroom when placed at the end of a bed. Antique or contemporary Navajo rugs add color, spirit and dimension to any room in your home.
One more tip: If you are starting with brand new construction, before you pick out the first swatch of upholstery or the first sample of paint, the best way to start your decorating is to purchase the Navajo rugs and blankets you love and then move on to pick the colors that will compliment the textiles.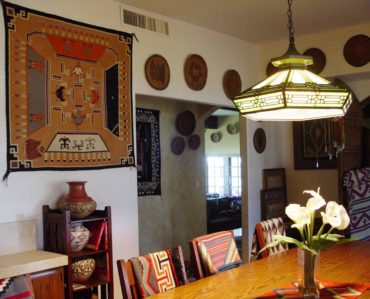 Walls may be painted several times and the furniture changed or recovered, as they will not have the longevity of the Navajo woven art. But Navajo rugs and blankets will last you a lifetime and more — even turn into family heirlooms.
Navajo weavings are in demand for the value they represent today, yesterday and in the future. They sell at increasing values in auctions around the country, such as Sotheby's, so you can be assured your Navajo weaving will always have value, both monetary and aesthetic.
Gail Getzwiller and her husband, Steve, founded the Nizhoni Ranch Gallery to share their passion for Navajo rugs with collectors around the world and keep the traditional art form alive.