How much thought do you give to your bathroom vanity? If you're like most of us, then the answer is, almost none at all. As long as it's large enough to hold all your sundry items, you're good to go, right?
I'm here to tell you that you should expect so much more than that from your vanity.
The vanity is the most important piece of furniture in the bathroom because it stores everything we need every day. Unfortunately, so many of the vanities out there are clunky-looking and not well designed.
If you want your bathroom to function at its best and to optimize the storage you need, then keep an eye out for a designer vanity.
Floating Vanities
If your bathroom is small in size, consider opting for a floating vanity. This design is perfect because it installs directly into the wall. It lifts completely off the floor, which allows light and air to circulate freely underneath.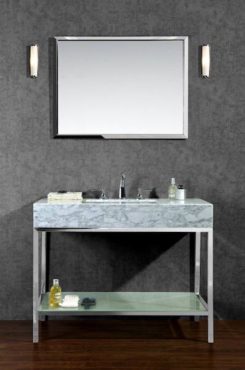 The other bonus is that you can install it at whatever height suits you best. Have kids? No problem. Tuck their stepstool under the vanity and out of the way.
High Style
The beauty of designer vanities is that you can find them constructed out of almost any material that suits your style and décor. Some of them can even be customized to your exact specifications, too.
Before you get too dazzled by their beauty, make a list of all the things you like to store in the vanity. That detailed information will keep you focused on finding the right vanity for your lifestyle.
Storage Galore
Remember that the point of the vanity is to store all of those necessary items you use on a daily basis. Regardless of whether you have a small or large bathroom, take the time to examine how much storage the vanity offers.
So many vanities feature a few drawers and one large cupboard area. That configuration might be fine for you. But, don't be disheartened if that typical design doesn't work for you. Keep looking for vanities that come with lots of drawers of different sizes.
If you still can't find what you need, consider customizing the cupboard area to your needs with after-purchase drawer separators and shelving.