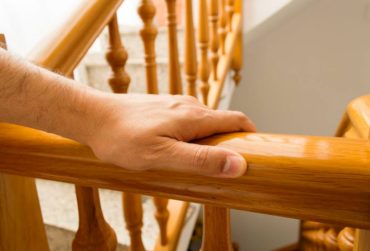 According to the American Association of Retired Persons (AARP), nearly 90 percent of seniors want to remain in their own homes as they get older.
The catch phrase for this wish is "aging in place." It is the simple concept of gracefully living out one's days in the comfort of their own home. Many seniors are successfully living this aspiration through careful planning.
Unfortunately, a bad falling incident can ruin this happy setup in less than a second.
Trips and falls are the leading cause of both fatal and nonfatal injuries for older Americans. And, they are the main reason seniors lose their greatly valued independence.
Fortunately, taking a spill is not an inevitability of getting older. In fact, there are a number of simple actions you can take now to prevent future falls:
Improve your balance and strength with exercise.
A couch potato lifestyle and general weakness will make you more vulnerable to falls. Focus on increasing your leg strength and maintaining good balance to keep yourself steady on your feet. Regular walks will also help you stay strong and avoid a dangerous fall.
Review your medications with your doctor or pharmacist.
Many kinds of medications (or combinations of medicines) can make you groggy or even dizzy. Additionally, how your body responds to various drugs, even over-the-counter medicines and those you have routinely taken for years, can change overtime as your body ages.
Take a closer look at what is in your medicine cabinet and then review what is in there with your doctor or pharmacist. These steps can help you be aware of any drug-related risks you may have and help you avoid an untimely tumble.
Check your eyesight.
It probably goes without saying, but if you can't see very well, you're more likely to trip and fall. Be sure to see your eye doctor at least once a year to ensure your eyeglasses are still doing their job of maintaining your vision quality.
At these appointments, your doctor can also check for glaucoma and other eye diseases that could impair your sight and increase your chances of falling.
Make sure your home is safe.
Our homes are filled with tripping hazards. By eliminating these dangers, you decrease the odds of falling and create a safer home for yourself.
Always wear shoes or rubber-soled slippers versus going barefoot or in sock.
Make a habit of removing items like books, papers and shoes from the stairs and other places you walk.
Remove slippery throw rugs or use double-sided taping products to secure them to the floor.
Ensure nonslip mats are in place in your bathtub and shower, and consider installing handrails and grab bars both next to and inside your tub and shower, and beside your toilet.
Consider upgrading the lighting in your home to increase brightness, especially on staircases.
Keep things you regularly use in places you can access them with ease — and without the use of a step stool.
Serious falls land older folks in the hospital every day and all too often these accidents disrupt one's well-laid plans to contently "age in place." Thankfully, a thoughtful and thorough evaluation of your current health and the state of your home can help you take steps toward preventing a tumble and therefore safeguarding your treasured future independence.