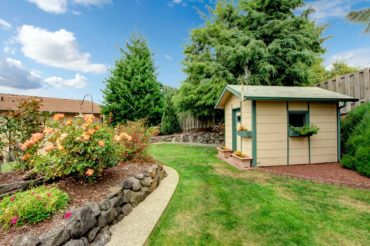 As a kid in the 1970s, I remember all my neighbors having those cheesy, metal sheds with a barn-style roof in the backyard. Yes, one of those where they kept all the Christmas stuff, the lawnmower — you name it.
They were patently unattractive, rusted and dented easily, and the doors didn't close. They were largely useless, but they did create a little extra storage space, no matter how much they lacked in security and weatherproofing.
Fast-forward several decades, and the need for space hasn't changed. However, the use of the humble shed certainly has.
It's a popular trend these days — auxiliary storage buildings used for a variety of spaces, including (but certainly not limited to) offices, art studios, guest spaces, "man caves," girls' hangouts (she-shed, lady lair), writing retreats. Most recently, a trend is to have a bar shed.
While the origins are not clear, I know from personal experience that many sheds have been built as convenience when someone's current home lacks space. Typically, the homeowners want to carve out a special spot, while avoiding the costly expense of an addition or remodel.
In fact, a myriad of companies have cropped up building just such little sheds and customizing them to your needs. Just search Pinterest.com or Houzz.com for some really spectacular visuals and inspiration.
Some people have even considered these sheds as tiny homes, but with housing come permitting issues that you will need to investigate (power, sewer/septic, water and more). If that is your intent, please be sure to talk to a planner at your local building department to see what is required.
In most jurisdictions (please check with your local building department for actual rules), a single-story, detached structure like a storage space or playhouse can be built without a permit up to 200 square feet. These sheds are not typically "permanent" and could actually be moved. While some may be set on a concrete slab for stability, some are not.
These little spaces have many reasons to make homeowners smile. Separate and quiet small spaces can lend themselves to any kind of use. Unlike a major remodel or addition, the costs can be more flexible and owners can have a variety of options, like a prebuilt shell, a kit or complete DIY. Or, hire it out completely.
There are a great variety of styles, too. Many sheds are finished to a lesser degree, while others can be pretty decked out. Often, you see them without heat or power — mostly as a daytime, fair-weather space to retreat to.
If you have been dreaming of the perfect extra space, without a major construction project or its cost, perhaps the shed trend is for you!