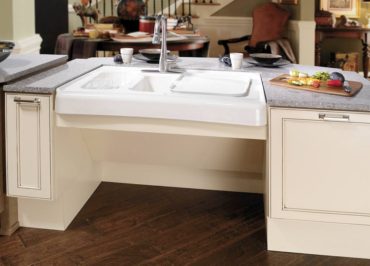 If you are planning to stay there into your "golden" years, it is smart to plan with "aging in place" in mind when you are building or remodeling your home.
Some people want to have a "forever home" where they can live well into their old age and under a variety of circumstances.
The concept of aging in place helps you to live easily in your home as you age. It considers various factors that you may not have thought about until you need those options.
It's smart thinking, as you never know what could happen, even temporarily, that might make it difficult to live easily in your own home.
There are many features that make aging in place easy, like 3-foot doorways throughout the home and 4-foot hallways (or wider) to allow for easy use of a walker or wheelchair.
Special considerations for kitchen access include open undersink areas for wheelchair access, raised-height dishwashers, cabinet hardware that is easy to slide your hand into without having a small knob to grasp.
In the bathroom, among the many options to consider is an oversized shower that's barrier-free ("zero-entry") so that a wheelchair or walker can roll right in.
Adding backing for grab bars during remodel or construction will ensure you don't need to redo the bathroom when you have a need for them later.
You can also use floor coverings that work with a walker or wheelchair and door levers over knobs; also consider building the house at grade to avoid any steps or inclines.
Small details that are easy for all ages to use include lever door handles, "rocker" or Decora-style light switches, and comfort-height toilets.
In a two-story home, consider a master suite on the main level, leaving the upper floor to guests and keeping your living and sleeping area stairs-free.
Aging in place in not just for older individuals. A serious injury could render you temporarily disabled. The difficult of using a wheelchair or walker in a house not designed for one might surprise you — can you even get to the bathroom, or inside of it once there?
When planning you building or remodeling project, consider incorporating aging-in-place features into your plans if a forever home is your goal.