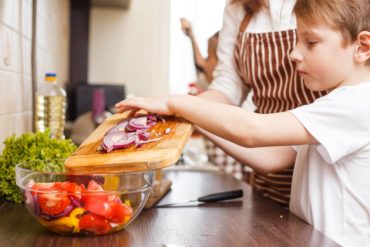 Are you finding it difficult to keep up with your healthy New Year's habits? Tackle those resolutions with renewed energy in March during National Nutrition Month and remember that small changes, made over time, can add up.
The 2017 National Nutrition Month theme, "Put Your Best Fork Forward," encourages everyone to start small — one forkful at a time. Whether you're planning meals to prepare at home or making selections when dining out, it's crucial to develop a healthy eating style that you can maintain.
"To make lasting, healthful changes to your eating habits, it's important to start small," says registered dietitian nutritionist and Academy of Nutrition and Dietetics spokesperson Caroline Passerrello. "Registered dietitian nutritionists can help you develop personalized solutions that will keep you healthy and allow you to still enjoy your favorite foods throughout your entire life."
Passerrello offers these ways you can "Put Your Best Fork Forward."
1. Choose healthier options when cooking at home.
"Eating a variety of healthful foods across and within all food groups helps reduce the risk of preventable, lifestyle-related chronic diseases, including cardiovascular disease, type 2 diabetes and obesity," Passerrello says. "Eat more vegetables, fruits, whole grains, fat-free or low-fat dairy, lean proteins and oils."
2. Find healthful options when dining out.
"Finding healthful options at restaurants is easier today than it ever has been," Passerrello says. "Most restaurants offer healthful options. Look for items that are steamed or roasted, and ask for sauce, dressing and cheese on the side. To-go boxes can help control portions. Eat half your meal at the restaurant and take the other half home."
3. Set a good example for your children.
Parents are the most important role models for their children.
"Modeling healthful eating habits starts in the kitchen," says Passerrello. "Involving your kids in the cooking with age-appropriate tasks, serving balanced meals with a variety of nutrient-rich foods and enjoying dinner together as often as possible are among the many things you can do to help your family be mindful of their eating habits."
4. Consult a registered dietitian nutritionist.
"A healthy lifestyle is much more than choosing to eat more fruits and vegetables. While that is important, it's also essential to make informed food choices based on your individual health and nutrient needs," Passerrello says.
"A registered dietitian nutritionist can educate you and guide your food choices while keeping your tastes and preferences in mind. They are able to separate facts from fads and translate nutrition science into information you can use."
To find a registered dietitian nutritionist in your area, visit eatright.org. The website also has articles, recipes and videos related to good nutrition and healthy lifestyles.