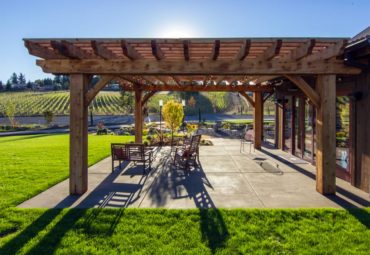 Homeowners today embrace sustainable choices for their homes as a matter of fact. What was pigeonholed as a privileged choice even a decade ago has grown more accessible, both in terms of price and availability.
What many people may not realize is that some of the most sustainable products available have been out there for a century or longer.
Take redwood as one example. This California-grown lumber has long been known as naturally strong, pest- and decay-resistant, structurally stable and noncombustible under fire conditions. And, as new, man-made lumber products are introduced, with the use of fossil fuels producing significant amounts of carbon in their manufacturing, natural products like redwood are becoming even more desired.
Independent analysis shows that when it comes to environmentally friendly, you can't top nature. A life-cycle assessment — a scientific technique that helps quantify the environmental footprint of producing and consuming products we use in our everyday life — showed that redwood is one of the most environmentally responsible building materials available.
Redwood uses nothing more than the energy from the sun and rain to grow, is recyclable, and is cleaner to produce than composites or plastics. Milling processes minimize waste as well, collecting sawdust and bark that are used to produce clean energy. Sawmills use this biomass energy to power their operations and return excess electricity to the state's power grid.
On the flip side, plastics and composite-decking products rely on chemical resins and fossil fuels in their manufacturing processes — materials that release carbon and increase emissions. Trees, meanwhile, take carbon out of the air and store it in wood fiber, trapping carbon in perpetuity, which helps reduce emissions and lower your carbon footprint.
At the end of its useful life, redwood is biodegradable, returning to the earth to help grow more trees. Composite lumber, while incorporating some recycled content, is likely landfill-bound at the end of its useful life.
In addition, through adherence to some of the strictest growing and harvest mandates, as well as a replanting protocol on commercial lands, today's redwood growers have plentiful lumber stock for future generations. Homeowners can find redwood products certified by the Forest Stewardship Council (FSC) from companies like Humboldt Redwood Co.
Redwood lumber is naturally strong and durable, shrinks and swells less than other woods, and is less likely to warp or split. This natural strength, combined with its environmental benefits, makes redwood an ideal choice for any number of landscaping designs, including:
Pergolas — as an open-air structure, pergolas bring visual interest out into a yard, and with redwood as the lumber of choice, can last a generation.
Gazebos — with more of a shelter than a pergola, gazebos offer a point of retreat from the surrounding landscape without isolating inhabitants.
Exposed-timber structures — the natural color and grain of redwood timbers lend a solid support to a greater structural design. Exposing the timbers to view adds drama to an impressive design.
Decks — the most obvious, perhaps, but a redwood deck can last the life of a mortgage when it's built and maintained well.
Planters — as a nontoxic wood species, redwood is ideal for garden boxes and planters to hold flowering plants, herbs, even vegetable gardens.
Furniture — any form of seating, tables and benches all deliver the promise of a comfortable place to gather when built with redwood.
Arbors — create memorable transitions from one part of a yard to the next with redwood arbors. These structures can reinforce the main lines and aesthetic of a house to connect outdoor and indoor spaces.
None of redwood's environmental benefits are engineered. Redwood requires no special handling to maximize the sustainable impact it delivers with each project. Moreover, there is no tradeoff between beauty, quality or durability.
As more is learned about the versatility and environmentally friendly features of this lumber, the only remaining question is: Why would you want to build with anything else?