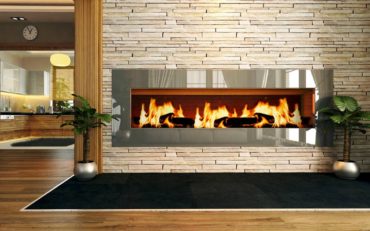 Whether you are remodeling or building, there are a variety of trends and fun finishes that you can incorporate to give your home extra style and personal flair.
Tile continues to be big in all types, styles and formats for a variety of surfaces, including full wall heights. In both kitchens and baths, this can be a really stunning look — or consider a tile wainscot if you don't feel like diving in with both feet.
White or light tile with contrasting grout is also a great look, and allows you to use a simple tile and leave the details to the contrast, which can be really striking. Shapes are popular, including the arabesque and quatrefoil, and subway continues to be a solid contender, from micro to oversized formats of 12 by 24 inches.
A new kid on the scene is encaustic concrete tile, highly popular in the 1930s and 1940s, with stunning designs that I think we will see a lot more of in the future.
Linear fireplaces are gaining in popularity. The firebox has a more rectangular shape than traditional models. Many have several options for the fire media, including logs, glass, stones and more, often in a variety of colors.
The flame burner can vary in length and often fills the entire space, giving a beautiful glow when burning. Many have modern faces of stainless or other options.
Shaker cabinet doors still top the list of most popular options, and they offer the most versatile look in terms of working with so many styles. Painted cabinets and shades of grays in both stain and paint are top choices.
New counter surfaces like Dekton by Cosentino are major multitaskers because they can be used as building facades or siding, flooring and traditional countertop. It is UV-stable, resistant to fire and high heat, and incredibly scratch resistant.
It also comes in large format slabs, so for spaces over 9 feet long, you can avoid seams. Beautiful colors, textures and stone looks are available to compliment any décor.
Vinyl and fiberglass windows with colored frames are a hit in lines like Milgard, Jeld-Wen and Ply Gem. Some lines offer up to 12 exterior colors, others as few as eight, and three exterior colors. They give your home a lot of character with the colored frame, and some can even be repainted over time.
All of these trends and finishes are a great way to add character and style to your home. If a remodel or building project is in your future, get looking at some of these awesome ideas to spice up your space!