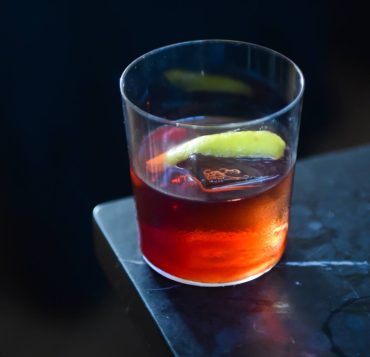 This holiday season, hospitality industry veterans such as Andy Seymour — a top bar educator — are encouraging hosts to use port wine as the focal point of their festivities in both food and drink menus.
"Port's depth of flavor and versatility in style brings so much to the palate. You will find endless ways to use it throughout your menu," Seymour says.
Favorites such as Taylor Fladgate 200-yea-old tawny porto make for a perfect digestif. And more recently, port has become an ingredient that at-home mixologists as well as bartenders around the country are using in new and delicious ways.
"It's an exquisite traditional after-dinner sipper, and it can be used in an endless number of cocktails," he says.
Start the evening off with a light and easy-to-make crowd pleaser like the Fonseca Siroco White Port and Tonic, which consists of one part white port and one part tonic, served over ice and topped with a lemon twist or mint leaf.
This simple cocktail will whet guests' palates, and also pairs perfectly with a festive dish — traditionally served in the Douro region of Portugal, port's ancestral home — called "Bolinhos de Bacalhau."
---
Bolinhos de Bacalhau
Ingredients:
2 pounds dried-salt cod
4 medium potatoes (Maris Piper)
1 large Spanish onion, finely chopped
2 garlic cloves, minced
1 handful fresh flat-leaf parsley, finely chopped
2 large eggs
Freshly ground salt and pepper
Vegetable oil, for frying
Instructions:
Soak the dried cod in cold water for 24 to 48 hours, changing the water several times to remove the majority of the salt. Drain the cod, rinse and put it in a large pan.
Simmer gently over medium-low heat for 20 to 25 minutes, until the cod is tender and flakes beautifully. Drain and rinse well, then flake the cod into a bowl with your hands, removing any bones and skin.
Peel the potatoes, bring to boil until soft and mash.
Add the cod to the potatoes, along with the onion, garlic, parsley and eggs. Beat the mixture firmly so that it is well combined. Season with salt and pepper.
Take the mixture and form either balls or quenelles. Place them in the refrigerator for a couple hours before frying.
Heat oil and fry the balls, turning until brown.
In addition to white port, several other varieties mix nicely in cocktails, including Fonseca Bin 27 Reserve ruby port and Croft Reserve tawny port. Here's another recipe.
---
Silent Night
Ingredients:
1 ounce Croft Reserve tawny
1 1/4 ounce rye whiskey
1/2 ounce Aperol
Instructions:
Combine all ingredients in a mixing glass. Stir thoroughly and strain over a big ice cube. Garnish with a wide lemon peel.
When entertaining, it's helpful to pick a theme and build your menu around it. Port wines, in all their versatility, can inspire any party host to wow guests — from the cocktail hour to the dessert course.
For more port cocktail recipes, follow @portcocktails on Instagram.