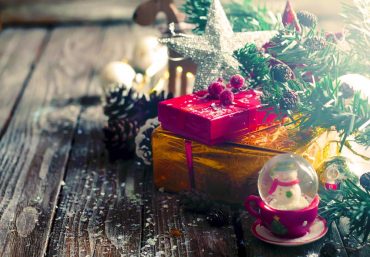 As the holidays approach, people are beginning to think about gifts to give their family, friends and colleagues. This year, as you make your list and check it twice, consider giving gift baskets that you put together yourself.
DIY gift baskets are fun to assemble and can be personalized to individual tastes and interests. You can create your own themes, choose what goes in them, and spend as little as you want.
Here are some basket sets I came up with that you could put together for less than $45 each. I gave them catchy names to go with the themes and included creative ways to gift them in baskets, boxes, bags and caddies.
You can make these exact sets or easily modify them-you can even combine sets to make your own themes. Find more gift basket ideas on pinterest.com.
The prices listed below are estimates from amazon.com but you'll find many similar options shopping locally. Have fun and be inspired!
1. Glamour Nails
2 shades of polish – $8
Liquid quick dry – $3
Polish remover pads – $9
Nail decals – $3
Cuticle stick – $5
Give in a stylish woven, plastic or metal basket or travel bag – $6
2. Travel Companion
Small makeup bag – $5
Purse-size tissues (3-pack) – $3
Travel-size hand sanitizer – $3
Travel-size lotion – $2
Travel-size toothbrush with a built-in protective cover – $6
Compact travel mirror – $5
Folding lint roller – $2
Give in the makeup bag or a cloth bag that can be tied at the top – $3
3. Gardener's Assistant
2 packets vegetable seeds that grow well in your region – $3
Gardening hand tools (trowel and mini rake) – $10
Gardening gloves – $5
Foam kneeling pad – $5
Give in a small wooden crate, bucket or tool caddy – $10
4. Herb Grower
A few packets of herb seeds or an herb starter kit – $6 to $13
Mini trowel – $7
Gardening gloves – $5
Mini watering can or small spray bottle – $3
Give in a stylish basket or planter – $10
5. Soup's On
Soup mix in a jar or box – $6
Metal or ceramic soup spoon – $3
Soup mug – $6
Crackers – $3
Tea sampler pack – $5
Small jar of honey – $6
Tea biscuits, biscotti or shortbread cookies – $3
A set of soup recipes tied with a ribbon, or a soup cookbook — as low as $0
Give in a stylish basket or small burlap bag tied with jute – $3
6. Sushi Kit
Bamboo making kit (rolling mat, rice paddle, spreader) – $8
Set of bamboo chopsticks (individual ones, not the kind that are connected) – $5
Sushi cookbook – $10
Bottle of sweet cooking sauce – $2
Wasabi powder – $3
Wrap the gift set in a mesh bag tied with a ribbon – $2
7. Wine and Cheese Night
A bottle of local wine (I recommend a semisweet merlot) – as little as $5
A wedge of sharp white cheese, such as a merlot cheese, that compliments the wine – $5
Crackers – $3
Small cutting board – $7
Wine stopper/pourer – $10
Give in a stylish basket or gift bag – $5
8. Coffee and Chocolate
Pound of ground coffee or a can of your favorite instant coffee – $5 to $12
Long-handled coffee scoop – $2
Hot cocoa mix – $3
Gourmet chocolate covered treats (Andes chocolate mints, chocolate-covered pretzels, chocolate-drizzled popcorn, chocolate-covered wafer cookies or chocolate-dipped biscotti) – $6
Coffee mug – $5
Electric cup warmer or a set of coasters – $10
Give in a stylish tin or basket or gift bag – $2
9. High Tea
A package of loose tea or tea bags or a boxed gift set – $2 to $15
Tea ball or brewing basket – $6
Jar of honey or sample-size jars of different flavors of honey – $3
Tea biscuits – $2
Package of muffins or rolls – $3
Small jar of jam or preserves – $3
Give in a small rectangular or square basket – $5
10. Cookies in a Jar
Jar filled with layered dry ingredients for a cookies or brownies – $3; tape or tie the recipe to the jar
Cookie dough scoop – $6
Set of cookie cutters – $8 to $10
Small cookie spatula turner – $6
Give in a small bowl or baking pan – $8 to $12
11. Aspiring Artist
Set of 12 colored pencils – $6
Set of white and black charcoal pencils – $8
Pencil sharpener for colored pencils – $7
Sketchbook – $5
White vinyl eraser – $3
Give in a cloth art caddy or plastic tote – $10
12. Book Lover
Store-bought bag of popcorn or hot-chocolate mix – $3
Fleece blanket or afghan – $13 to $18
Clip-on book light – $7 to $12
Metal bookmark – $4
Give in a small cloth tote or basket – $2 to $6