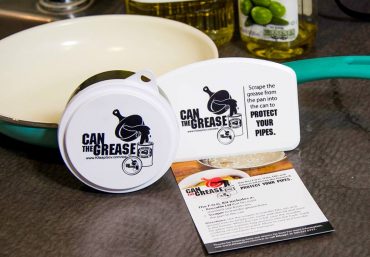 The Sewer Utility Division of Kitsap County Public Works is offering free kits to residential customers to encourage proper disposal of fats, oils and grease, commonly referred to as "FOG" in the wastewater industry. According to the U.S. Environmental Protection Agency, approximately 65 percent of sewer spills are FOG-related. The majority of these spills are in residential areas.
When poured down a drain, FOG can clog pipes anywhere on your property or in the sewer system. The residents are responsible for the cost of repairing the line on their own property, or even worse, cleanup and repair if there is a backup into the home.
Whether your house is on a septic system or connected to a sewer system, FOG can impact your pipes in a negative way. The Sewer Utility spends a significant amount of time and expense removing FOG from the sewer and at wastewater treatment plants.
The Sewer Utility Division is asking residents to "Can the Grease" to help keep FOG out of sewers. The free kits include a reusable lid that fits most standard-size food cans and a scraper to transfer grease to the can. It also includes instructions for proper disposal of grease and options for recycling cooking oil, which is accepted at three locations in Kitsap County.
Do you know what qualifies as FOG?
When we think of fats, oils and grease in the kitchen, fried foods may come to mind. But there are other sources of FOG that may surprise you:
Dairy products
Gravy
Mayonnaise
Salad dressing
Frosting
Lard and shortening
Butter and margarine
When disposing of these items, use the trash can, not the drain. FOG can be removed from plastic tubs with a spatula or paper towel before recycling the container. Hot water and soap may wash FOG down the drain, but it will eventually cool and solidify in pipes, where it can cause clogs and sewage backups.
Avoid putting FOG in the garbage disposal as well. It will grind up foods, but greasy particles can still cling to pipes.
The Sewer Utility will distribute "Can the Grease" kits at various events and upon customer request. The kits may also be distributed directly to certain residential areas that have FOG in the sewer system.
Do your part to "Can the Grease" and protect your pipes! To request your free kit, contact Lisa Horanyi, Sewer Utility Education and Outreach Coordinator, at lhoranyi [at] co [dot] kitsap [dot] wa [dot] us or call Kitsap1 at 360-337-5777.