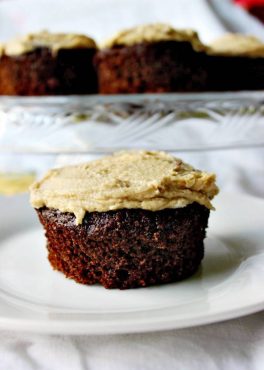 Anyone else have a sweet tooth? I love to bake. Desserts are what make my kitchen go round. I used to purchase boxed cake mixes by the half dozen when they came on sale. Until (you guessed it) I started reading the ingredients.
I went back through our family recipes and came across my great-grandmother's chocolate cake recipe. This comes together super quick and tastes better than its processed boxed counterpart. After all, if a recipe has survived this many years, you know it has something going on.
The secret is the mayonnaise and the coffee. The coffee heightens the chocolate flavor and in my opinion, something can never taste too chocolatey. You don't taste the coffee in the finished cake.
2 cups flour (I use soft white wheat but all-purpose or cake flour is fine)
1 cup sugar
1⁄2 cup cocoa
1 teaspoon baking soda
1 teaspoon baking powder
3⁄4 cup mayonnaise
1 egg (optional-use when making cupcakes)
1⁄2 cup cold water
1⁄2 cup brewed coffee
1 teaspoon vanilla
Preheat oven to 350 degrees. Stir all dry ingredients together. Combine wet ingredients with dry until smooth. Pour into greased and floured pans. Bake at 350 degrees for 30 to 40 minutes for a cake or 16 minutes for cupcakes. Cool completely before frosting.