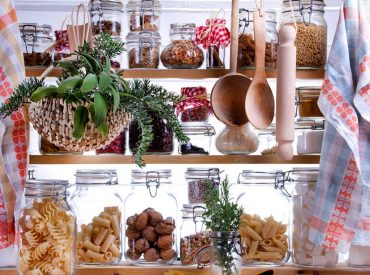 Have you ever noticed when you run to the store for one particular item you usually end up grabbing a few more items than you intended? I've found by keeping a good stock of staple items I can make many different dishes from basic ingredients.
This has significantly lowered our food bill. I'm not limited on making a meal because I don't have a certain mix or can of something to make the recipe.
Here is my basic list for having on hand in your food pantry. You can choose which items you stock from the list and you don't have to stock each item, but you will need at least one from each category.
Acids
apple cider vinegar
concentrated lemon juice
lime juice
whole lemons
whole limes
Fats
organic cold-pressed coconut oil
extra-virgin olive oil
avocado oil
butter and/or lard
Beans
black beans
pinto
white
kidney
garbanzo
Salt
sea salt
canning salt
curing salt for meat curing projects
Dairy
milk
cheese
buttermilk
yogurt
kefir
Grains
quinoa
organic cornmeal
rice
oatmeal (not instant)
Sweeteners
organic sugar
evaporated cane juice
honey
maple syrup
molasses
rapadura
stevia
Nuts
Unsalted raw nuts are best
, as you can roast them, make your own candied nuts, make your own nut butters and toast them for texture in soups or on casseroles, You can also add them as toppings for muffins, cakes, and breads, or eat them plain.
Meat
beef
pork
poultry
fish
lamb
Spices
cayenne pepper
celery salt
Ceylon cinnamon
Chili powder
cloves(whole and ground)
cumin
curry
ginger
mustard(whole and ground)
nutmeg
red pepper flakes
pepper
paprika
onion powder
garlic powder
turmeric
Herbs
basil
dill
oregano
parsley
rosemary
sage
thyme
Chocolate
I stock both powdered cocoa and organic chocolate chips.
Leavening items
baking soda
baking powder
cream of tartar
active dry yeast (store yeast in the fridge for best results)
Truthfully, I've found it much more frugal to make dishes myself from scratch. The food tastes better, and when you count the time it takes to drive to the store, park the car, take kids to the bathroom, go through the aisles, wait in line at the checkout, get kids and groceries into the car, start to pull out from the parking lot only to have kids say they have to go potty again, it's faster to make it at home as well.
After numerous power outages in our area of the country — and after a mudslide took out the main highway for almost three weeks — I've also learned the benefit of having a food supply at home. Not only does it help when the store isn't open or we can't get to it, but it also saves me time by allowing me to shop from our pantry instead of the store shelves.
I can make a few cups of sauce to replace those cans of condensed soups in three minutes for about 50 cents, and that's using organic ingredients.
Adapted from: The Made from Scratch Life. Copyright © 2016 by Melissa K. Norris. Published by Harvest House Publishers, Eugene, Oregon. www.harvesthousepublishers.com. Used by permission.