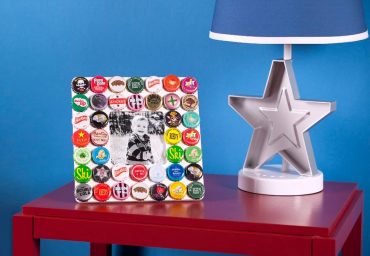 Bottle caps are among many kids' favorite things to collect (perhaps for kids at heart too). If you've got an abundance, instead of discarding or thinning out your collection, use them for a weekend crafts project. Besides, your kids are asking for something to do — here's a way to have a little fun together.
Celebrate your family's favorite moments and display in a picture frame you can craft in an afternoon. Perfect for your child's bedroom, or in any retro-inspired room in your home.
Supplies:
Soda bottle tops
Wood Frames
White craft paint
Sand paper
Tack cloth
Krazy Glue
Directions:
Remove the inserts from the frame, sand and wipe with a tack cloth.
Paint with white craft paint and let dry. Repeat as needed.
Arrange soda bottle caps around the frame as desired.
Adhere to the frame with Krazy Glue and let dry.