My three kids spend so much time with me in the kitchen. Daily, we chop, we mix, we bake, we stir, we do life together around our island and over food. At this point, they are trained professionals when it comes to helping mom out with food prep, but it hasn't always been that way.
From the time they were little, I've used a few tried-and-true techniques to get them excited about cooking, yet not in my way when I'm trying to get dinner on the table.
Chop, chop, chop! Plastic knives are the perfect thing for smaller kids to use when they're in the kitchen. When my kids were still in highchairs, I would pull them up to my work surface and give them something soft (like bread or a banana) along with a plastic knife and let them chop away while I did too. Not only did this entertain them, it also really helped with their fine motor skills.
Crack that egg — but over a separate dish. One of my kids' favorite things to do is crack eggs for me. Right now, my 6- and 7-year-olds can crack them perfectly, but it took practice. From an early age, I would let them help me, but over a separate bowl.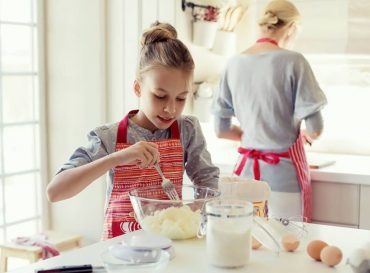 This way if the shell breaks, you can scoop it out easily. I always have them repeat our motto: Crack hard, use your thumbs and press down in the middle. This cracks the egg perfectly every single time.
Stir, baby, stir! Kids love to stir and it's a great way to get them helping while you're making dinner. "Low and slow" is what we say every time. If they keep the spoon low in the bowl and stir slowly, they won't make a mess.
Measure it. I will pull out the ingredients for something, along with a variety of measuring cups and spoons, and ask my kids to premeasure my ingredients for me as I bake or cook. They take their time and line everything up on the island and then it's not only simple for me to use but it's all nice and tidy too.
Stop, don't drop and roll. One of the first things my kids learned to do was roll out things while we were prepping food. Meatballs are their favorite! They wash their hands, roll up their sleeves and get to rolling out their golf-ball-sized balls.
When kids really get their hands dirty in the kitchen, the magic begins.