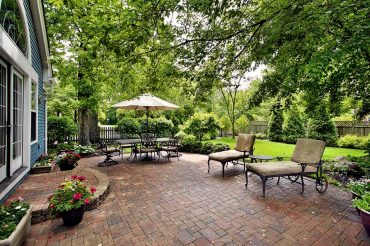 With the beautiful weather upon us, we have the chance now to spend more time outside with friends and family enjoying our beautiful surroundings. Here are a few ideas for getting your spaces looking their best.
If you have an existing patio or deck, now is a good time to give it a good pressure-washing and cleaning. Inspect for damage on decks and replace any loose or rotting boards. For a concrete patio, patch or repair cracks and apply a sealer after cleaning.
Is your patio or deck looking a little rundown? Patio areas can be stained with concrete stain to upgrade their look, and you can add a decorative border of pavers to increase the size a bit and add some visual interest.
Decks, after a good cleaning, may need to be sanded down, and a new stain, sealer or Penofin can be applied to rejuvenate the color and look as well as protect the deck and railing.
Do you have a side yard or back yard that you don't use because you don't know what to do with it? Create a little oasis by laying pavers or pouring a patio. Set out a little bistro table, add a small gas fire pit and hang some of those cute patio lights.
This little unused yard area might become the surprise jewel for get-togethers and just enjoying a quiet afternoon, reading or sitting by the fire pit at night. It can be a great place for outdoor movies, teenager hangouts — so many possibilities.
Step back and take a look at your spaces with a fresh eye. What small updates can you make to create a more welcoming and relaxed feel? Some colorful pots of varying heights filled with flowers? New patio furniture or just some new cushions for the old stuff? A colorful, new patio umbrella?
With a little effort — and a few weekend projects if you don't want to hire out the work — you will be enjoying that great "new" space just in time for summer sun and fun.