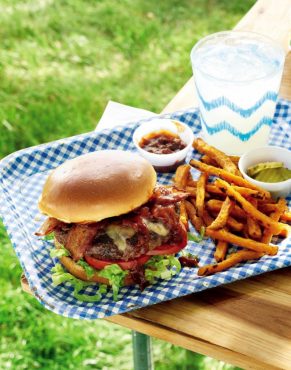 According to New York Times best-selling cookbook author Jamie Purviance, one of the top trends in barbecue today is a movement toward more individual expression.
"It used to be that barbecue styles were determined by regions, but in our internet-connect, melting-pot nation, those regional styles are evolving," says Purviance, chef and author of the newly released book "Weber's New American Barbecue." "Younger grillers are blending old-school methods with fresh flavors to come up with unexpected food riffs, including Boston bacon fatties and baby back ribs with blueberry-chipotle barbecue sauce."
Try Purviance's Bacon Cheeseburgers with Kentucky Bourbon Sauce to add some new school excitement to your next backyard barbecue.
Bacon Cheeseburgers with Kentucky Bourbon Sauce
Serves: 4
Prep time: 20 minutes, plus about 35 minutes for the sauce
Grilling time: 8 to 10 minutes
Special equipment: 2 large handfuls of hickory or mesquite wood chips
Ingredients:
SAUCE
2 tsp vegetable oil
2 slices bacon, cut into 1/2-inch-wide strips
1 yellow onion, about 5 ounces, finely chopped
1 garlic clove, minced
1/4 cup bourbon
1 cup ketchup
1/4 cup water
3 tbsp cider vinegar
3 tbsp unsulfured molasses (not blackstrap)
2 tbsp dark steak sauce
1 tbsp spicy brown mustard
1 tsp liquid smoke
1/2 tsp hot pepper sauce
8 slices bacon
1 1/2 pounds ground chuck (80% lean)
1 tsp kosher salt
1/2 tsp freshly ground black pepper
4 ounces smoked cheddar cheese, grated
4 hamburger buns, split
4 leaves romaine lettuce, shredded
8 slices ripe tomato
Directions:
Soak the wood chips in water for at least 30 minutes.
Warm the oil in a heavy, medium saucepan over medium heat on the stove. Add the bacon strips and fry until browned and crisp, 3 to 5 minutes. Using a slotted spoon, transfer the bacon to paper towels to drain and cool, leaving the drippings in the saucepan.
Add the onion to the saucepan, reduce the heat to medium-low, and cook until soft and golden brown, 8 to 10 minutes, stirring occasionally. Stir in the garlic and cook until fragrant, about 1 minute. Add the bourbon, increase the heat to medium-high, and boil to reduce slightly, about 1 minute. Add the remaining sauce ingredients and bring to a boil over medium-high heat. Reduce the heat to low and simmer, uncovered, until the mixture thickens and is reduced to about 2 cups, about 20 minutes, stirring occasionally. Turn off the heat and stir in the fried and cooled bacon. Cover and keep warm.
Meanwhile, in a skillet over medium heat on the stove, fry the eight bacon slices until browned and crisp, 8 to 10 minutes, turning occasionally. Transfer the bacon to paper towels to drain.
Mix the ground chuck, salt and pepper, and then gently form four patties of equal size, each about 3/4-inch thick. With your thumb or the back of a spoon, make a shallow indentation about 1 inch wide in the center of the patties to prevent them from forming a dome as they cook. Refrigerate the patties until ready to grill.
Prepare the grill for direct cooking over medium-high heat (about 400 degrees).
Drain and add the wood chips to the charcoal or to the smoker box of a gas grill, following manufacturer's instructions, and close the lid. When smoke appears, grill the patties over direct medium-high heat, with the lid closed, until cooked to medium doneness (160 degrees), 8 to 10 minutes, turning once. During the last minute of grilling time, place one-quarter of the cheese on each patty to melt and toast the buns, cut side down, over direct heat.
Build each burger on a bun with lettuce, tomato slices, a patty, bacon slices and sauce. Serve warm.
As a frequent Memphis In May judge, Jamie Purviance knows insider tips and characteristics of award-winning barbecue. Purviance is the author of several best-selling cookbooks, including "Weber's Real Grilling," which has sold more than one million copies to date. Purviance's "Weber's Way to Grill" and "Weber's Smoke" have both made the New York Times Best Sellers list. He has appeared on several national television shows including Today, The Early Show, Good Morning America, Fox & Friends, the Oprah Winfrey Show, PBS, CNN and the Food Network. The just-released "Weber's New American Barbecue" features 120 recipes, including appetizers, pork, beef, poultry, seafood, sauces and side dishes. For more information, visit www.weber.com/cookbooks.