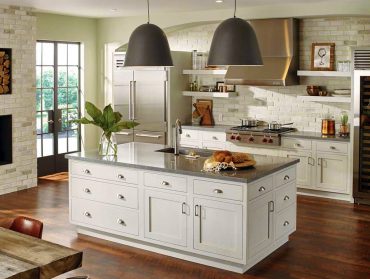 Look in any magazine that features kitchens and baths and you may notice that 90 percent of the rooms show inset cabinetry. Many people don't notice the difference but they comment that is looks very sleek. So what are inset cabinets?
Inset cabinetry features doors and drawers that fit inside of the cabinet-face frame openings. This type of cabinet construction gives a full view of the cabinet frame, with only minimal spacing or gaps between the cabinet components.
You can personalize the look by doing a beaded inset, or leave the frame plain for a simple, classic look. The beaded inset construction is fitted into the cabinet door itself, providing an edge detail that exemplifies fine craftsmanship.
You see inset cabinets in many old homes, from the 1920s and '30s. They were originally popular in Georgian and Victorian periods. Today's inset cabinets give a nod to nostalgic styling, providing a distinctive, heritage look that many homeowners and designers are seeking.
Frameless, full-overlay or partial-overlay cabinets on a framed box are commonplace and what you see most often in modern homes.
Like these common cabinets styles, there are many ways to personalize them, from color to door styles, wood species, glazes, distressing and other custom options. Finial hinges can be added to create a period-specific look in several finishes.
If you are looking to set your home apart from the crowd, take a look at inset. It's a timeless, classic look that you'll love for years to come!