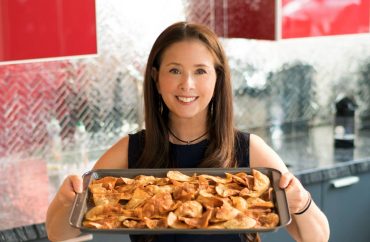 New York Times wellness blogger and nutritionist Dawn Lerman grew up around food: Her father was known for his witty ad campaigns; he was responsible for such iconic slogans as "Coke Is It," "This Bud's for You," and "Leggo My Eggo."
Unfortunately, he was not able to use the same problem-solving skills when it came to his weight. He was obese as she was growing up — 450 pounds at his heaviest. His weight would go up and down depending on what fad diet he was on — or what ad campaign he was assigned to.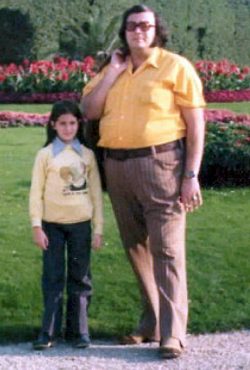 He insisted Dawn, her mother and sister adapt to his saccharine-laced, freeze-dried food plans to help keep him on track. Dawn's mother never cooked and she witnessed her mother eat only one real meal a day — a can of tuna over the kitchen sink — while she dashed from audition to audition pursuing an acting career.
Lerman, author of the New York Times Well Blog series, "My Fat Dad," describes her food journey and that of her father, a brilliant copywriter from the "Mad Men" era of advertising at Leo Burnett and McCann Erickson, in her book, "My Fat Dad: A Memoir of Food, Love, and Family, with Recipes"."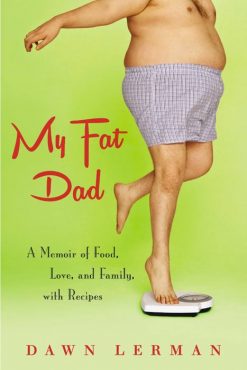 Snacks were a particular downfall of her father, especially when he was working on fast-food marketing campaigns.
"My dad felt that in order to create a good slogan, you needed to believe in the products you were selling," Dawn explains. "He was always the best customer for the food and drinks he advertised, testing them excessively — especially when Wells Rich & Green promoted him to head creative director for Pringles potato chips."
Dawn knew she had to get inventive to help her dad get healthy while still staying inspired. At 9 years old Dawn had become the official chef for her family, turning her maternal grandmother Beauty's Jewish weekly recipe cards into diet friendly meals and treats that would keep her dad motivated.
You can try these healthy and delicious snacks from "My Fat Dad" with no stopping required. The potato chip recipe below can be enjoyed throughout the day as they are satiating and nutritious.
Pair it with Dawn's hummus recipe, which is loaded with protein. The combo of complex carbs, protein and healthy fats will fill you up without weighing you down.
---
Herb Infused Ranch Style Sweet Potato Chips with Coconut Oil
Yields: 4-6 servings
These sweet potato chips are crunchy, slightly salty, and have that wonderful ranch taste. They are a healthy take on traditional, store-bought chips. They are fried in coconut oil, which not only helps the chips to brown beautifully, but aids in speeding up your metabolism.
Ingredients:
4 large sweet potatoes, can also use white potatoes or beets
1/2 cup coconut oil
1 tsp dried parsley
1 tsp garlic salt
I tsp onion powder
1 tsp minced onion
Sea salt for seasoning
Fresh thyme for garnish
Directions:
Preheat oven to 375 degrees, scrub potatoes to remove dirt. Then slice into thin, even pieces. You can cut them by hand or use a slicing attachment on a food processor. Rinse your potato slices in cold water. Soak the slices in cold water for 30 minutes.
Drain the potatoes and lay them on a paper towel, keeping them slightly moist. Dip in bowl with herb mixture — dried parsley, garlic salt, and onion powder. Make sure chips are coated.
In a skillet, melt the coconut oil over medium heat. When the oil sizzles, place them in the oil for about 1 minute until they get slightly brown. Do not overcrowd the pan. Best to do in small batches.
Use a slotted spoon or spatula to remove your chips from the coconut oil. Drain the chips on a layer of paper towels, and repeat until all chips have been fried and blotted.
Place all the cooked chips on a baking sheet and bake for 1 minute. Remove and serve warm. Sprinkle with sea salt and garnish with fresh thyme.
*NOTE: if you do not want to fry the chips, you can take coated chips, lay them out on a baking sheet sprayed with coconut oil and bake for 20 minutes at 375 degrees until golden brown.
---
Sweet Potato Hummus
Yields: 6 servings
If you are looking for a light, healthy snack, this sweet potato hummus is bursting with flavor, spice and color. Because of its high protein content, it will help control your appetite and mood. Pair with the potato chip recipe for the perfect blending of protein and carbs.
Ingredients:
1 large sweet potato (about 9 ounces)
1 (15-ounce) can chickpeas, drained and rinsed
5 tbsp olive oil (plus additional, as needed, for thinning)
2 tbsp tahini
2 tbsp fresh lemon juice
2 garlic cloves, peeled
1 tsp ground coriander
1 tsp ground cumin
1/4 tsp kosher salt
Pinch of nutmeg
Directions:
Position the baking rack in the middle and heat the oven to 425 degrees. Wrap the sweet potato in foil and bake in a shallow baking pan until it can be easily pierced with a knife, about 45 minutes. Transfer to a cooling rack and allow the potato to cool completely.
Peel the skin off the sweet potato and transfer to a food processor fitted with a blade. Add the chickpeas, olive oil, tahini, lemon juice, garlic, coriander, cumin, salt, and nutmeg, and process until smooth. If the hummus is too thick, add a little extra olive oil or water and process until the desired consistency is reached.
Recipes from "My Fat Dad: A Memoir of Food, Love, Family, and Recipes" By Dawn Lerman (Berkley Books, 2015). Reprinted with permission.