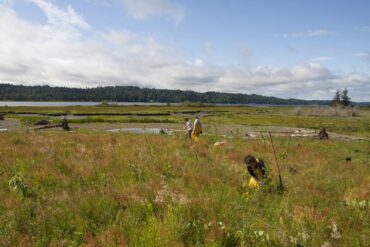 The Great Peninsula Conservancy (GPC) is seeking 200 volunteers to plant 5,000 native trees in Belfair through the end of January. GPC, the nonprofit land trust operating in Kitsap, north Mason and west Pierce counties, is restoring a native, climate-resilient plant community in vital salmon habitat by planting native shrubs and trees at the end of the month.
Over the past 10 years, GPC has worked to restore the Klingel-Bryan-Beard Wildlife Refuge, transitioning it from a diked cattle pasture to its former saltmarsh habitat. The conservancy continues the work to improve the estuary habitat, which supports local salmon and orca populations.
In January 2022, in partnership Western Washington University, GPC will plant native trees and shrubs in specific areas of the preserve that remain impacted by the land's history of diking. Jenise Bauman, PhD, a restoration ecologist and professor at Western Washington University, will be studying growth and mortality of Garry oak, shore pine, and Douglas fir. This study, as part of GPC's planting project, uses the practice of "assisted migration."
For the purposes of this project, assisted migration means moving plants of the same species but a different genotype in response to climate change. Trees naturally migrate, but it can take hundreds of years, and our climate is changing faster than trees can move. GPC's stewardship staff identified areas that currently match the climate that our planting site is predicted to have in 100 years' time: Humboldt County, California; and Salem, Oregon.
GPC will be at the Klingel-Bryan-Beard Wildlife Refuge from Jan. 21 every day through Jan. 30 and needs community support to get these plants in the ground. Instruction in proper tree planting technique specific to this site will be provided at the beginning of each work party.
No tree planting experience is necessary and all ages are welcome.
---
Event Details
Where: Klingel-Bryan-Beard Wildlife Refuge in Belfair
(park behind the big red barn at 2091 NE Highway 300 Belfair, 98528)
When: Jan. 21-30 • Mon-Thu, 9 a.m. to noon; Fri-Sun, 9 a.m. to noon and 12:30-3:30 p.m.
Signup: greatpeninsula.org/all-events