Art in the Woods, a unique, self-guided art studio tour, is an annual event by the Cultural Arts Foundation NW that takes place on the second weekend of November. Scheduled for Nov. 12-14 this year, the tour will include 18 North Kitsap working studios. You're invited to stop by and meet the artists, see new work, view demonstrations and purchase treasures. The studio hours are 10 a.m. to 5 p.m. each day.
Over 50 local professionals are working in a variety of media including painting, sculpture, jewelry, glass, ceramics, printmaking, photography, encaustic, textiles and more. Studio sizes range from single-artist working environments to groups of artists in larger venues.
The tour is divided into five easy-to-access areas — color-coded on the brochure map that you can find on the Cultural Arts Foundation website. You can also contact each studio directly.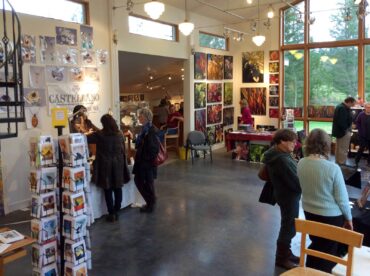 The Cultural Arts Foundation NW, established in 1985, is a nonprofit organization dedicated to supporting the arts, advancing creative potential and involving the community in the enjoyment and appreciation of the arts in Kitsap County. In addition to Art In the Woods, CAFNW organizes the annual Poulsbo Arts Festival in the summer.
Additionally, CAFNW offers scholarships for students and grants for adults who want to further their arts knowledge and skills. The purpose of these grants and scholarships is to encourage Kitsap County artists in all facets of the arts.