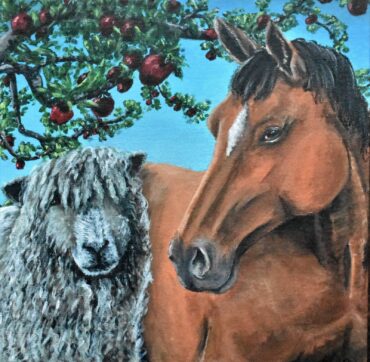 For 15 years, "Fiber Arts: Threads Through Time" has been a focal event of the Key Peninsula Farm Tour. This free, family-friendly event returns to the Longbranch Improvement Club (LIC), located at 4312 Key Pen Hwy SW in Longbranch, on Saturday, Oct. 2, from 10 a.m. to 4 p.m. The farm tour takes place across the Key Pen on both Saturday and Sunday, Oct. 2 and 3.
Founded in 1921, LIC celebrates its centennial year. Is mission statement for the past 100 years has been "to encourage any activity for the betterment of schools, homemaking, roads, marketing, dairy, poultry and all its branches." This all-volunteer organization maintains the clubhouse — originally a school gymnasium — that is now on the National Historic Register.
The fiber festival features approximately two dozen artists demonstrating, exhibiting and selling their work. Only items made by the artists themselves are available for sale. Inside LIC historic clubhouse, exhibitors and vendor displays will include a range of artists who utilize both traditional and modern techniques that show the utilitarian and artistic uses of fiber in the creation of quilts, hand-woven baskets, jewelry, wall hangings, dolls, hand-tooled leather craft, embroidery and wearable art made from silk, wool and alpaca fibers.
Outside on the LIC grounds, there will be live music throughout the day, as well as a variety of art and craft booths and a display of antique tractors.
Featured Artist
The 2021 featured artist is Nancy Chong, who teaches appliqué, Hawaiian quilting and two-fabric appliqué design. As a teacher, her specialty is stress-free, needle-turn hand appliqué. Her goal is to put students directly in touch with their needle, thread and fabric.
Chong says, "I show how incredibly easy appliqué is without the use of freezer paper, toothpicks, starch, cardboard, plastic, back-basting, ironing or interfacing — all things that needlessly complicate what is otherwise a very simple process."
She learned to make Hawaiian quilts from Margaret Luika Kamaka in Kailua, Oahu, Hawaii, between 1978 and 1981 and began teaching Hawaiian quilt making in 1982 when her family returned to Seattle. Although she has made other types of pieced and appliquéd quilts, Hawaiian quilts remain her passion.
In 1991, Chong and her sister, Janice Lee Baehr, were interested in promoting Hawaiian quilting and formed Pacific Rim Quilt Co. to market their quilt patterns and hand-dyed fabrics. Chong recently sold PRQC to her "best friend" Connie Sayler of Medford.
Key Pen Farm Tour Attractions
After visiting Fiber Arts, take the School Bus Connects shuttle to see the other Key Peninsula Farm Tour sites on the south end of the peninsula — Kaukiki Farm, a working sheep ranch and the grounds and beachfront at Sound View Camp.
And don't miss the Longbranch Marina. Before roads were built, the Longbranch community was dependent on Mosquito Fleet ferry service to get goods to market. When the auto traffic to Gig Harbor and beyond became possible and Mosquito Fleet service was discontinued, the LIC worked out an agreement with Pierce County and Washington state to operate the marina for the benefit of residents.
Farm tour attractions on the end of the peninsula will include Volunteer Park, which will host an apple squeeze event; the Red Barn Youth Center, which will offer games and crafts; Grand Farms with its Haunted Forest; Four Winds Riding Center and more.
For details, go to licweb.org and kpfarmtour.org. For activities and schedule, check the Key Peninsula Farm Tour's Facebook page.