It's that time of year again — time to see Pacific salmon make their way home to the Kitsap streams, where their lives began. Not only does their migration offer a unique opportunity for people to observe this iconic species, but their journey brings essential marine nutrients to our streams. We are fortunate to be able to witness this important migration firsthand, and we invite you to do the same this fall.
Join hundreds of other salmon enthusiasts at this year's Kitsap Salmon Tours event on Saturday, Nov. 9, 11 a.m. to 3 p.m. Eventgoers will have the opportunity to learn about salmon from biologists, local environmental organizations and trained salmon docents at eight different sites across the county.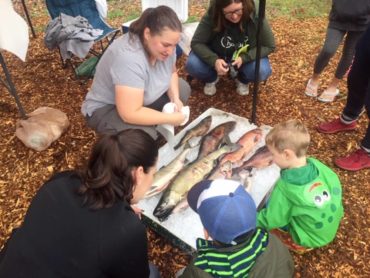 From guided walks at Keta Legacy's Rhododendron Preserve to interactive activities offered by Kitsap Regional librarians, this free event offers exciting opportunities for all ages. Come to learn about local salmon species, habitat and life cycle — and, most importantly, to see them for yourself in Kitsap streams
Salmon may also be observed at these sites throughout their migration period, so feel free to visit another time to see what you can find. Details about Kitsap Salmon Tours and alternative viewing dates with knowledgeable guides are available at www.kitsapsalmontours.org. Follow the official Salmon Tours event on Facebook here.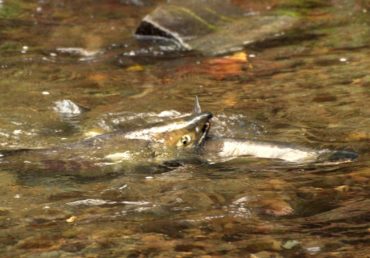 Additionally, you're invited to submit any photos you take at this event (and beyond) for the Kitsap Photo Contest that is open Oct. 1- Nov. 15, using this Facebook app on the WSU Kitsap Extension Water Stewardship Program Facebook page.
Kitsap Salmon Docents
If you haven't met a salmon docent at Kitsap Salmon Tours, you'll want to connect on Nov. 9. Salmon docents are knowledgeable volunteer guides who are on site to engage with visitors about the salmon they see in the streams. They have dedicated time to complete a multi-day, salmon-focused training led by WSU Kitsap Extension and Washington Sea Grant.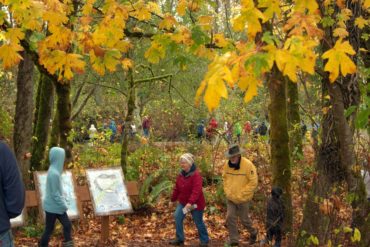 Salmon docents learn about salmon through field trips and hands-on activities, and upon completion, they can volunteer to share their knowledge at the annual Kitsap Salmon Tours event.
This year, salmon docent trainees will explore a range of topics in the October training sessions. From learning about the relationship between Pacific salmon and Southern resident killer whales from NOAA scientist Candice Emmons, to joining a tour of the Suquamish Tribe's Grovers Creek hatchery, trainees gain insights about Pacific salmon from local experts.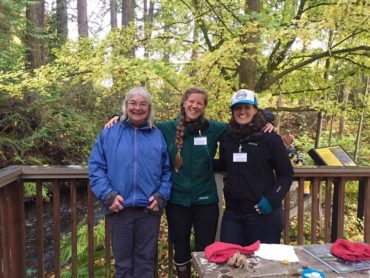 This annual docent training is available to anyone interested in engaging in salmon restoration efforts through stewardship and education. Sign up to be notified once the 2020 training registration opens.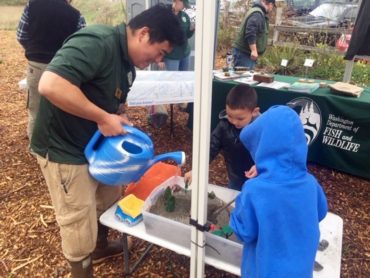 The WSU Kitsap Extension Water Stewardship Program cultivates environmental stewardship in Kitsap County through education and engagement opportunities. Learn more on the program website or keep up with events and training opportunities by liking the Facebook page or signing up for the monthly newsletter.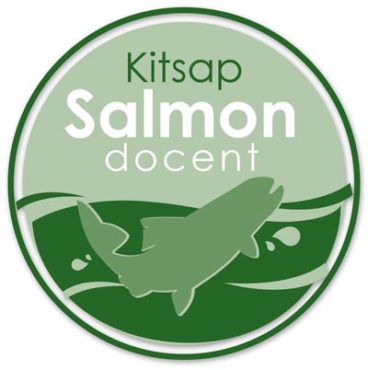 Kitsap Salmon Tours is made possible by the city of Bremerton, Chico Salmon Park Stewardship Group, Clean Water Kitsap, Clear Creek Task Force, Friends of Miller Bay, Great Peninsula Conservancy, Hood Canal Salmon Enhancement Group, Keta Legacy Foundation, Kitsap County, Kitsap Poggie Club, Kitsap PUD, Kitsap Regional Library, the city of Poulsbo, Suquamish Tribe, Washington Department of Fish and Wildlife, Washington Sea Grant and WSU Extension.