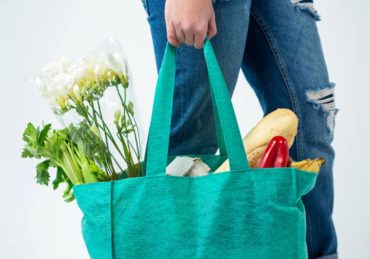 It's time to stock up on those reusable bags. Starting Jan. 1, most of Kitsap County stores will go plastic-free for their carryout bags, and will start charging for paper bags. New laws restricting use of plastic carryout bags will go into effect in unincorporated Kitsap County as well as Bremerton and Port Orchard. Bainbridge Island has had a plastic-bag ban since 2012, and Gig Harbor instituted one earlier this summer.
The Kitsap County Board of Commissioners passed a "plastic bag ban" on Aug. 12. This law prohibits retailers in unincorporated areas from providing thin plastic carryout bags to customers. It also requires that retailers charge 8 cents per bag for paper bags or thicker plastic bags.
City of Bremerton's ordinance was adopted on June 5 and the city of Port Orchard's ordinance was adopted on Aug. 20. All three laws will go into full effect on Jan. 1.
City of Poulsbo, the Port Gamble S'Klallam Tribe and the Suquamish Tribe do not have plastic bag ordinances. The ordinances also do not apply to retailers on Naval installations.
The following frequently asked questions were provided by Kitsap County.
What happens to the paper bag charge?
Retailers will keep this "pass-through" charge to help cover the cost of providing bags. If they choose, retailers may charge more than 8 cents per bag. If customers choose to buy a bag, they will see "bag" listed on their receipt along with their other purchases. Paper bags must contain at least 40 percent recycled content.
Why is there a charge for paper bags?
The 8-cent charge is in place to encourage people to choose reusable bags. Although paper bags don't lead to plastic waste, they are resource-intensive to produce. Switching to paper bags is not preferred.
The 8-cent charge also creates an even playing field for all businesses, regardless of size. Large retailers can often negotiate bulk discounts from their bag suppliers. Without the charge, small retailers (who pay a higher price per bag) would have a disadvantage. The Northwest Grocery Association and the Washington Food Industry Association support these ordinances.
What stores are affected?
All retail stores and home-delivery services within unincorporated Kitsap County, city of Bremerton and city of Port Orchard, including grocery stores; corner and convenience stores; pharmacies; department stores; home improvement stores; clothing stores; farmers markets; food and catering trucks; fair, event and festival vendors; and all other establishments that sell goods.
How can I remember to bring my reusable bags?
Get in the habit of placing your phone, wallet, keys or purse on top of your reusable bags so you don't forget to bring them back to your vehicle or into the store.
What's the goal of these laws?
The goal is to reduce waste, prevent litter and reduce contamination in the recycling system. Kitsap County uses 87 million plastic bags every year but only 12 percent are recycled in bag-drop-off bins. Bags are one of the top 10 littered items along Washington's roads.
When bags enter marine environments, they break into small pieces that are ingested by marine animals and humans. Bags are not accepted in curbside recycling because they tangle in sorting equipment.
How can I line my trash can and pick up pet waste?
Reuse bags that come with common food and household items, like chip, bread or cereal bags. Other plastic bags that are exempt from this law include plastic bags used for packaging meat, seafood, produce, bulk items, frozen foods, newspaper, tires, flowers, laundry and dry cleaning; food storage baggies; garbage bags; pet waste bags; yard waste bags and door-hangers.