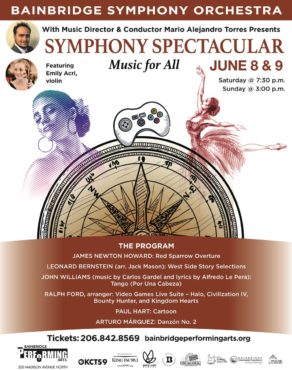 From Leonard Bernstein to John Williams, Bainbridge Symphony Orchestra's invigorating season finale encompasses music from an array of artistic disciplines. Join Maestro Mario Alejandro Torres, the BSO and the incredibly talented violinist Emily Acri to celebrate the significance and vitality of music in daily lives.
This riveting program features James Newton Howard's "Red Sparrow Overture," Leonard Bernstein's "West Side Story" selections (arranged by Jack Mason), Carlos Gardel and Alfredo Le Pera's "Tango – Por Una Cabeza" (arranged by John Williams), Paul Hart's "Cartoon," Arturo Márquez's "Danzón No. 2," Ralph Ford's arrangement of "Video Games Live Suite" with Halo by Martin O'Donnell and Michael Salvatori, "Civilization IV: by Jeff Briggs, "Bounty Hunter" by Jeremy Soule and "Kingdom Hearts by Yoko Shimomura and Kaoru Wada. You won't want to miss this concert, as it will be a Symphony Spectacular.
Torres is a conductor, teacher and performer native to San Pedro Sula, Honduras. Currently based in Seattle, he made his Benaroya Hall conducting debut in collaboration with maestros Ludovic Morlot and David Alexander Rahbee in an exciting concert with the University of Washington Symphony Orchestra.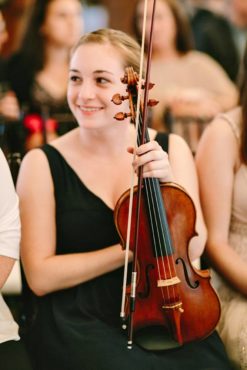 For the past two years, he has served in a conducting fellowship with the Seattle Symphony, assisting Morlot in collaboration with artists such as Hilary Hahn and John Luther Adams. As the music director of Poulsbo Community Orchestra, he has brought a new and exciting sound to the ensemble. Outside of the United States, he has conducted performances with the Eddy Snijders Orchestra in Paramaribo, Suriname, and in his hometown with the professional Chamber Orchestra of San Pedro Sula and Victoriano Lopez School of Music Choir.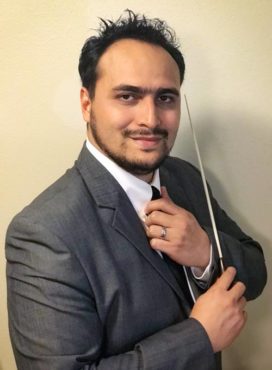 Born and raised in Chicago's Northshore, 25-year-old violinist Emily Acri received precollegiate training from Stacia Spencer at Northwestern University, where she was also a member of the Northwestern Strings violin ensemble, performing regularly at local venues and touring Europe during two summers.
Her dual love for both performance and teaching have led her to play alongside her teacher at the Center Stage Strings summer program in Ann Arbor, Michigan, and to perform as concertmaster for a University of Michigan conducting seminar under the instruction of Sir Simon Rattle. Presently, she resides in Seattle and is pursuing a doctorate of musical arts at the University of Washington.
"Symphony Spectacular: Music for All" runs at 7:30 p.m. Saturday, June 8, and 3 p.m. Sunday, June 9. A preconcert chat is offered at 2:15 p.m. on Sunday.
Tickets, $21 for adults and $18 for seniors, students, military and teachers, may be purchased online at www.bainbridgeperformingarts.org, by phone at (206) 842-8569 or in person at BPA, located at 200 Madison Avenue North, Bainbridge Island. Each youth receives free admission when accompanied by a paying adult, thanks to the BSO's "Youth in Music Initiative" funded by Wicklund Dental.
Learn more about BPA at www.bainbridgeperformingarts.org.