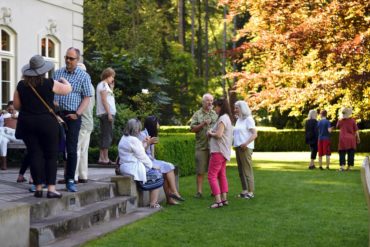 A sunny May evening on the waterview lawn of Bloedel Reserve brought local art enthusiasts and artists together. The dining room at Bainbridge Island's stunning residence at the renowned botanical garden is now curated with original relief prints, as "Inspired by Bloedel" debuts by newly formed West Sound Printmakers (WSP).
"WSP is a group of inspiring professional artists," Bremerton artist Jacquelyn Speare said. "There is an interesting variety of styles that make our show dynamic. There are prints for everyone's style."
Each of the featured artists visited the 150-acre reserve to create a relief print by carving out negative space in reverse from a flat surface such as a linoleum block. Multiple originals are printed by using a brayer to apply ink to the block, and press with even pressure to transfer the design to paper. Some pieces are formed by a single print, while others take several layers of reduction printing, by which the block is destroyed.
"There is nothing that compares to pulling a print off the block or plate the first time it is printed," local artist Judy Anderson said. "It's that surprise that I love most about printmaking."
West Sound Printmakers is a group of a dozen professional Kitsap artists, ranging from ages 31 to 90. The collaboration formed after several Kitsap artists came out of the woodwork in 2018.
A conversation between Paula Gill and Marit Bockelie, owner of The Bremerton Letterpress, about the first WayzGoose Kitsap Arts Festival generated an idea for a separate linocut show at Collective Visions Gallery. At that opening last August, many of the artists met for the first time. Another spark happened and they set a date for their first meeting the following month.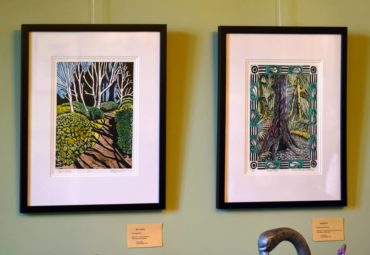 "I love collaborating with my fellow printmaking professionals!" Bremerton artist Erica Applewhite said. "I have learned more and stretched more in my craft from being in relationship with them than I have in years. Tips, techniques, new directions, encouragement — it's all part of the process."
The reception for the group's first annual printmaking show at Bloedel Reserve was May 10, when the reserve opened its doors to the public free of charge for Gratitude Day. Bloedel's Laura Counsel estimated 300 visitors were be in attendance.
"I was so inspired by Bloedel that I made a list of all the feelings the reserve ignited in me: serenity, bliss, meditation, spiritual wonder, natural beauty and so much more," Kitsap artist Judy Anderson said. "The feeling that stood out was joyful, and so I titled my print 'Joyful Spirit.' I will come here often."
The original limited-edition prints will be on display through June and are available for sale in the gift shop. The group's next print show will be the first Friday in August at Collective Visions Gallery in downtown Bremerton. You may keep up with WSP's work and events on Instagram.
"If you have not visited this beautiful reserve, put it on your calendar," Poulsbo artist Leigh Knowles said. "It is far more than a series of gardens, each with a unique theme. As you stroll the pathways, you are introduced to so many experiences that offer the eye and soul beauty and refreshment."