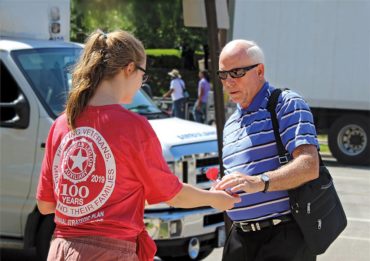 One hundred years ago, a selfless, young school teacher with a big heart and unwavering commitment to our nation's veterans started a national movement that continues today — brightening the lives of those who served our nation.
During its 100th anniversary this year, The American Legion Family celebrates a century of service through Moina Michael, "The Poppy Lady." Michael exemplified the Auxiliary motto of Service Not Self and is credited with establishing the poppy as a symbol of remembrance for those who served and died for our country in war.
Each year, red paper or fabric poppies are distributed in exchange for donations to support the future of veterans, military and their families with medical and financial needs. Many of the poppies are made by hospitalized and disabled veterans as a form of rehabilitation and source of income.
In 2017-2018, American Legion Auxiliary members throughout the United States distributed over 5.5 million poppies and poppy-themed items, raising more than $4 million in donations that went directly to help veterans, military and their families.
In 2018, at the urging of The American Legion Family, U.S. Congress officially designated the Friday before Memorial Day as National Poppy Day.
The story began in Good Hope, Georgia, where Michael started her career as a school teacher at age 15. After the United States entered World War I in 1917, she signed up to volunteer with the YMCA Overseas War Workers, where she waged her own private war effort to support active-duty military by giving a keepsake to each student who was deployed.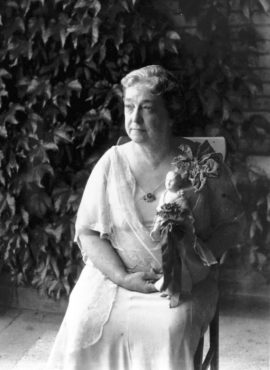 Michael took a leave from her studies at the University of Georgia to travel to New York City and work at the YMCA Overseas Secretaries training headquarters, with the hope of eventually being stationed overseas.
In November 1918, just before the Armistice, Michael received a copy of Ladies' Home Journal, which featured Canadian Lt. Col. John McCrae's poem "We Shall Not Sleep," later renamed "In Flanders Fields." The poem was written for a fellow soldier whose burial service McCrae had presided over. In the poem, McCrae eloquently paints a picture of blooming red poppies among rows of white crosses on the deserted battlefields of Western Belgium and Northern France.
"This was, for me, a full spiritual experience," Michael wrote in her memoirs. "It seemed as though the silent voices again were vocal, whispering, in sighs of anxiety unto anguish. … I pledged to keep the faith and always to wear a red poppy of Flanders Fields as a sign of remembrance and the emblem of 'keeping the faith with all who died.'"
From there, the idea of the symbolic red poppy was born and Michael wrote her own poem, "We Shall Keep the Faith," in response to McCrae's. The last stanza captures her idea to wear a poppy in honor of those who died in war:
And now the torch and poppy red
We wear in honor of our dead.
Fear not that ye have died for naught;
We'll teach the lesson that ye wrought
In Flanders Fields.
Michael wore a poppy on her collar until she returned home to Georgia in 1919 and became known as The Poppy Lady. She continued her teaching career by instructing a group of disabled veterans. She noted their need for financial and occupational assistance and lobbied The American Legion to have veterans assemble poppies for distribution with requests for donations.
In the early 1920s, The American Legion Family adopted the poppy as its official memorial flower to pay homage to the battlefields of WWI. Today, The American Legion Family's mission is to support the military community by promoting the significance of the flower and the meaning behind it.
Wearing a poppy this National Poppy Day (May 24), and every day, is one simple way to show gratitude for veterans who put their lives on the line to protect us.
To learn more, visit poppydayusa.org.