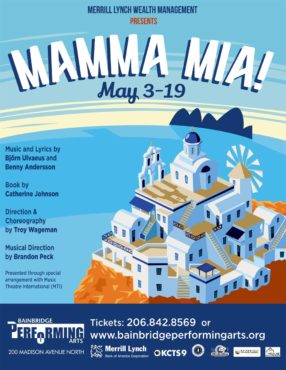 Set sail for paradise through May 19 on Bainbridge Island. The storytelling magic of ABBA's timeless songs propels this hilarious story of a young woman's search for her birth father. This sunny and funny tale of love, laughter and friendship unfolds on a Greek island paradise.
On the eve of her wedding, a daughter's quest to discover the identity of her father brings three men from her mother's past back to the island they last visited 20 years ago. Join Bainbridge Performing Arts for an unforgettable show featuring a mother, a daughter, three possible dads, and a trip down the aisle you'll never forget.
Director and choreographer Troy Wageman has performed in some of the leading musical theatre houses in the country, including Seattle's 5th Avenue Theatre, Village Theatre, ArtsWest, Sound Theatre Company, Houston's Theatre Under The Stars, American Musical Theatre Of San Jose, The Ordway and Lyric Light Opera. Previously appearing as Burrs in the Gregory Award-winning production of "The Wild Party" for Sound Theatre Company, Wageman most recently performed on BPA's stage as Tick in "Priscilla Queen of the Desert."
Also returning from "Priscilla" is Musical Director Brandon Peck, who previously received a Broadway World Award for Music Direction for his work on "Jesus Christ Superstar" at SMT and a Gypsy Rose Lee Award nomination for music direction on "Toxic Avenger" with StageRight.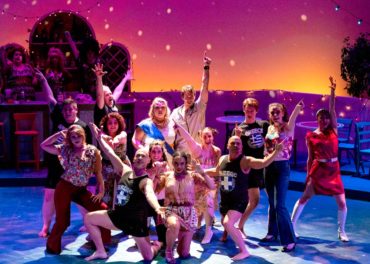 Together, the artistic duo leads an enchanting cast of BPA newcomers and returning favorites.
Evening shows are Fridays and Saturdays at 7:30 p.m. and Sunday matinees are at 3 p.m. Tickets are $29 for adults and $24 for seniors, students, youth, military and teachers, and may be purchased online at www.bainbridgeperformingarts.org, by phone at (206) 842.8569or in person at BPA, located at 200 Madison Avenue North, Bainbridge Island.
Bainbridge Performing Arts also offers an "Open Doors" program. Free and reduced-cost tickets to most events are available to community members in need through partner Helpline House thanks to a grant from the Mabee Family Foundation. Please contact the BPA Box Office at or Helpline House to reserve tickets.
Find out more about BPA at www.bainbridgeperformingarts.org.