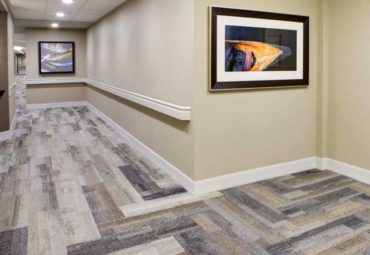 As senior living communities aim to provide healthier environments for residents, more environmentally friendly design initiatives are launched throughout the country. New life-care communities that emphasize sustainability establish the foundation for quality care, while also being aesthetically pleasing, healthy and cost-sensitive.
These communities use green construction method, recycling programs, energy- conservation programs and alternative fuel sources to create a healthier home for their residents while also making a positive impact on the environment.
One example of a new community incorporating sustainable design is Heron's Key in Gig Harbor. Heron's Key residents and visitors walk on one of the world's most sustainable inventions: carpet made from recycled fishing nets.
Interface, the world's largest manufacturer of modular carpet, designed this carpet as part of its quest to help reverse climate change. The company takes discarded fishing nets from Third World coastal communities and arranges for those fishing nets to be recycled into nylon yarn that is used to make carpet.
Discarded fishing nets represent a large proportion of solid waste and pollution. The nets cause long-term ecological damage and endanger marine life. This environmentally conscientious program will impact Heron's Key residents, staff and the overall environment for years to come.
A large number of Americans prefer to work in a setting that is designed to be energy efficient and ecologically sound. Also, it is now common for sustainable construction to cost less than traditional construction. On average, senior living communities can expect construction savings of 12 percent when using sustainable practices versus traditional ones.
Incorporating eco-friendly designs can help life-care communities raise their standard of care and continue to offer seniors an environment that looks and feels like home.