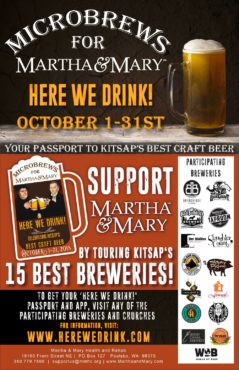 Love local beer? How about enjoying the beer for a good cause? "Microbrews for Martha & Mary" returns for the second year, giving the local community an occasion to support Martha & Mary with a fun and festive event benefitting local seniors.
Purchasing the event's "Here We Drink" passport and web app will lead you on a tour of Kitsap's best craft beer Oct. 1-31. Fifteen Kitsap breweries participating in the event will contribute a portion of profits from each pint purchased by passport holders.
Organizers hope to raise $10,000 to benefit "beyond bingo" enrichment endeavors for senior residents living at the nonprofit care company's Health and Rehab Center in downtown Poulsbo. This includes funding for an exciting new virtual reality system designed specifically for senior-users by MyndVR. The system is scheduled for implementation this fall, making Martha & Mary the first senior care facility in the state to offer this type of technology-based programming aimed at enhancing the quality of life of seniors in their care.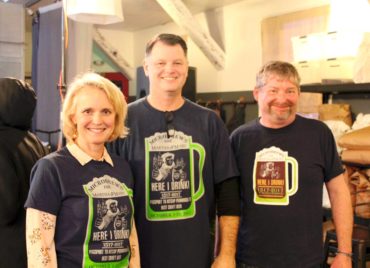 This year's event is already shaping up to be bigger and better than before with the addition of six more brew houses rallying behind the cause, a slick new web app that assists the breweries in recording and tracking drink purchases, and special commemorative drinking glasses for sale.
Kitsap craft brewery participants, from Port Orchard to Kingston, include Bad Bulldog's Brewery, Bainbridge Brewing, Der Blokken Brewery, Dog Day's Brewing, Downpour Brewing, Hale's Barrel House, Hood Canal Brewery, Lovecraft Brewing, Silver City Brewery, Sound Brewery, Slaughter County Brew Company, Slippery Pig Brewery, Valhöll Brewing, Western Red Brewing and World of Beer.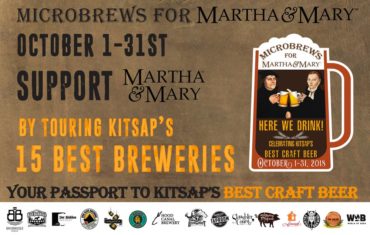 Eight Lutheran congregations in the region, Bethany Lutheran, Our Savior's Lutheran, Peace Lutheran, Port Madison Lutheran, Poulsbo First Lutheran, Silverdale Lutheran, Spirit of Life Lutheran and Vinland Lutheran, are again sponsoring the fundraiser.
Pastor Kent Shane of Poulsbo First Lutheran, a lead event organizer explained that in 2017, the event honored Martin Luther and the 500th anniversary of the Reformation.
"This year, we are raising our glasses to Luther's wife Katherina (Katie) Von Bora," he said. "She was well-known throughout Germany to be a very fine brewer of beer."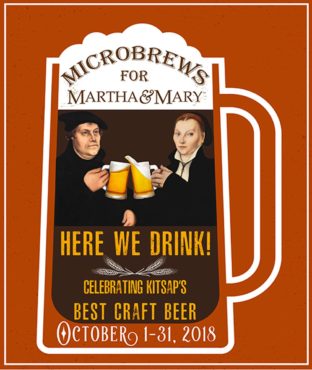 A wrap-up party for the event is planned for Nov. 1 from 6:30 to 8:30 p.m. at Western Red Brewing in Poulsbo. Aside from the outstanding Western Red beer selection, attendees can expect fun prizes, a special trophy presentation to the brewery that collects the most donations and the Grub Hut Food Truck serving up their delicious burgers.
"Here We Drink" Passports, including access to the web app, are available now for $15. Visit www.HereWeDrink.com to see the full list of the participating breweries and churches to purchase your passport or visit Martha & Mary Health and Rehab Center in Poulsbo. Prost!