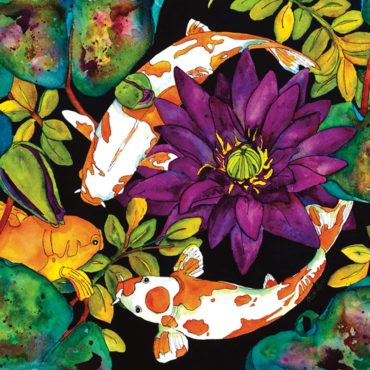 Every year for the past 26 years, artists who live in Gig Harbor, Key Peninsula, Fox Island and South Kitsap have opened their studios once a year for the annual Open Studio Tour.
OST (as the artists call it) provides a rare opportunity for the public to peek inside artists' studios, meet the creative people who actually support themselves making art, and admire and acquire fine and functional works of art.
This year, 32 artists — painters, potters, stone and metal sculptors, fiber artists, jewelry designers, wood workers, glass artists and even growers of bonsai — will welcome visitors to their studios Sept. 14, 15 and 16. Many of the artists will also give demonstrations of how they create their artworks, and all are eager to share information about their processes and inspirations.
A good number of artists who've participated in OST for years are back, and the 2018 tour also includes a dozen newcomers: Kelly Allard, oil painting; Robin Marsh, pen and ink; Nikki Brook, oil and acrylic painting; Shannon Kruger, textiles; Suzi Sharp, mixed media mosaics; Scott Scheibal, bonsai and custom rock planters; Marty Brobowski, stained glass; Dan Stromstad, wood turning; Fred Buxton, fused glass; Marci Carlson, oil painting; Andrew deGoede, oil, charcoal and chalk; and Jeff Yaeger, recycled metal yard art.
Returning artists include Michael Hoover, knives and jewelry; Kathy Thurston, watercolor; Lucy Rau, watercolor and fiber art; Donna Trent, pastel and oils; Emily Maxson Porter, painting and encaustic; Barb Bourscheidt, ceramics; Claudia Wild, jewelry; Elizabeth Cox, watercolor and oil pastel; Paulette Hoflin, jewelry and beaded sculptures; Kate Larsson, watercolors; Jane Henson, watercolor, pen and acrylic; Miles Struxness, pottery; Wanda Garrity, clay; Brad Stave, woodworking; Karen and Norm Geiger, jewelry; Gail Kelly, paper, clay and stained glass; Sharon Feeney, stone sculpture; Mary McInnis, paintings; Jani Freimann, watercolor and acrylic; and Lola Waller, watercolor.
Longtime OST artist Donna Trent, best known for her award-winning pastel and oil paintings, will have some new paintings, some sketches, and for the first time, some interesting — and very different — acrylic artworks. She'll also be demonstrating how she makes her paintings and will even have pastels and oils available for visitors to "experiment" with. Visitors can also enter a drawing to win one of her small, original paintings.
Emily Maxson Porter is also an OST veteran. She paints with wax, creating encaustic paintings inspired by the beauty of nature. Her paintings are usually about landscape, both real and imaginary. Before turning to painting full time, Porter worked as a teacher, organist, composer and software engineer.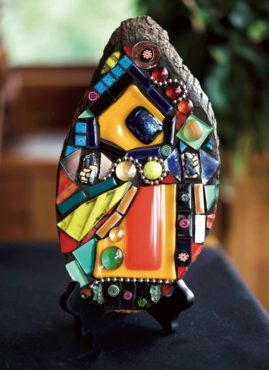 Raft Island artist Kate Larsson is another longtime OST member. Larsson works in bright, bold watercolors and reproduces her paintings on ceramic art tiles and coasters, computer mouse pads, blank cards and tempered glass cutting boards. (She'll also be selling her work at Kitsap Holiday Fest in Poulsbo in early November and at Gig Harbor's Tidefest in early December.)
Fiber artist Shannon Kruger will be a guest in Larsson's studio. This is Kruger's first time participating in OST and she'll be showing and selling her one-of-a-kind baskets crafted from fine colored and textured textiles.
Newcomer Robin Marsh is best known for her very detailed pen and ink wildlife illustrations. Marsh says she sees patterns in everything — flora, fauna and even urban settings and Native American artwork provide inspiration for her work.
Another first-timer, Suzy Sharp, creates vibrant, multimedia mosaics. She collects unique items and incorporates them into her original designs that become wall hangings, garden posts, pots and rocks.
The three-day tour is free and open to everyone who's interested in visual art and meeting the talented folks who make it.
Find more information, and a downloadable, printable map showing each studio, at gigharboropenstudiotour.org.
OST is a sponsored project of the Greater Gig Harbor Foundation, a 501(c)(3) charitable nonprofit organization.