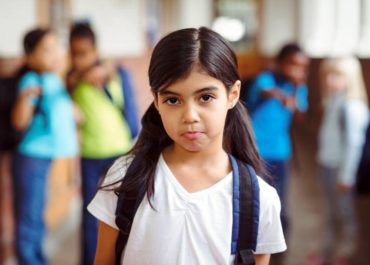 Join Michelle Abad and a bevy of stars from the BPA stage for a one-night-only cabaret to raise funds for antibullying resources in Kitsap County. As reported by the Dispute Resolution Center of Kitsap County, "bullying is a widespread, serious problem that can happen anywhere … and can cause serious and lasting harm."
Distressed at the prevalence of local bullying, Abad is eager to do something to help those in need. "No one should feel like they are alone. We are here to help you," Abad says.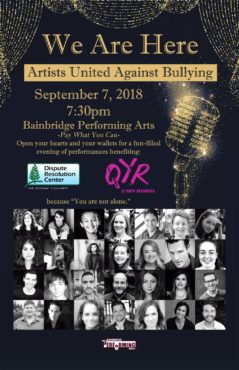 Musical director Reece Sauvé and choreographer Heather Dawson lead a cast of BPA celebs, including gents Tanner Ausbun, Ryan Bohannon, Garrett Dill, Shane Hoffmann, Bo Mellinger, James O'Donnell, Ryan Patrick O'Donnell, Reece Sauvé, Justin Silver, Adam Somers, Troy Wagerman and Josh Wingerter; gals Michelle Abad, Nicole Bird, Hannah Knapp-Jenkins, Breanne Penalver and Emily Welter; and kids Ben Eldridge, Sophie Eldridge, Trey Field-Bennett, Madelyn Figueroa, Anya Flanagan, Katja Hord, Katy Irvin, Cordelia Janow, Josh Moff, Olivia Opalski and Delaney Taylor.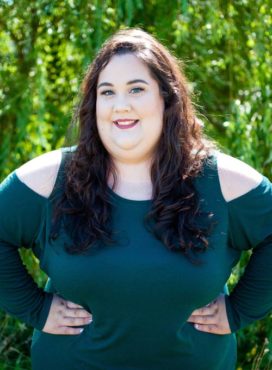 Put your money where your heart is with this Pay-What-You-Can fundraiser, and join BPA Sept. 7 for a fun-filled evening with a purpose. Funds will be distributed to the Dispute Resolution Center of Kitsap County and The Q Center.
Information is available online at www.bainbridgeperformingarts.org, by phone at 206-842-8569 or in person at BPA, 200 Madison Avenue North, Bainbridge Island.
BPA is supported in part by Bainbridge Community Foundation, the city of Bainbridge Island and One Call for All.
Find out more about BPA at www.bainbridgeperformingarts.org.